Jimi Hendrix's Best Album Is His Most Underrated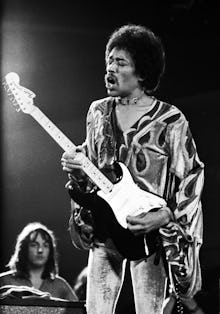 Jimi Hendrix looms so large in rock history, it's easy to forget that only three years of his music ever reached a wide audience. His first album, Are You Experienced?, catapulted him into rock's upper echelon, and was widely praised as one of the "greatest and most influential debut releases in rock 'n' roll," according to NPR. It was so lauded, though, that it tends to obscure his later accomplishments — including his most significant record: Band of Gypsys.
When the last album released in his lifetime, Band of Gypsys, came less than three years after his first, it didn't receive nearly the same glowing reception. In fact, as Charles Shaar Murray wrote in his book, Crosstown Traffic: Jimi Hendrix & The Post-War Rock 'N' Roll Revolution, "it's generally received a fairly unenthusiastic press." Even at the time, it was disparaged. "Hippies wondered where their beloved Jimi Hendrix had gone. ... Record-industry insiders saw it as a cynical contractual thing," wrote Mike Wood for Perfect Sound Forever.
That's because it was recorded live with a very different band backing him: the R&B and funk-infused Band of Gypsys. It was a new sound, and people didn't recognize it as the Hendrix they loved. But that record was every bit as groundbreaking and invigorating as his first — maybe even more so. It celebrated its 45th anniversary in March, and it still sounds as vivacious and vital as it did the night it drew an entire auditorium to its feet on New Year's Day in 1970. It's time we recognized Band of Gypsys for the career-defining record it is.
The birth of funk: Jimi Hendrix was looking for new sounds in 1969. He'd broken up his backing band, the Experience — the band of white rock players behind most of Hendrix's greatest hits. He was listening to a lot of free jazz and funk and jamming with jazz fusion pioneers like Miles Davis and John McLaughlin, and wanted to bring some of those grooves to his own music. He found the sound he was looking for in bassist Billy Cox and drummer Buddy Miles, two black musicians who were well-established in the burgeoning R&B scene.
This new rhythm section pushed Hendrix in entirely new directions. "The way Hendrix locks into the thick, lazy twitch of Cox and Miles' groove on the opening 'Who Knows,' creates a brand new funk which he never attained with any other combination," Murray wrote.
Hendrix's friend and mentor, jazz visionary Miles Davis claimed that the new set-up allowed Hendrix to share far more of himself than he could with his previous groups. "He used to play 6/8 all the time when he was with them white English guys [the Experience], and that's what made him sound like a hillbilly to me," he wrote in his autobiography. "But when he started playing with Buddy and Billy in the Band of Gypsys, I think he brought what he was doing all the way out."
His most experimental record: Anchored by that throbbing downbeat, Hendrix's solos could be wilder, his songwriting more experimental and his vocal delivery more expressive. "He did not have to carry a band with his guitar when playing soul and funk, and this made for a looser style and added a directness to his increasingly personal lyrics," writes Wood. 
The record, then, was a departure both musically and lyrically from his earlier work. It showed him stretching beyond the forms he pioneered almost immediately. His finest lyrical and musical achievement on the record is his 12-minute epic, "Machine Gun." It graphically portrays the senselessness of the Vietnam War, following a soldier who defects from the army after refusing to tear apart families with his machine gun. Hendrix mimics the chaos on his guitar. It left audiences stunned and remains, to this day, a touchstone for guitarists everywhere.
The end of the band: That record remains the best remnant of one of the greatest rock bands of all time. Soon after, they were gone. There are conflicting reports as to what actually happened to lead to its dissolution. Some cited Hendrix's dissatisfaction with Buddy Miles' straightforward drumming style. Others claimed Hendrix needed money, so he reunited the Experience (though with Gypsys' Bill Cox now on bass). Others, such as blues guitarist Johnny Winter, claimed Hendrix's managers were encouraging him to return to a more marketable white band.
However, part of the Gypsys' founding was an attempt to share Jimi Hendrix with black audiences and unite his fan bases. "Black kids think the music is white now, which it isn't," Hendrix famously said in 1968, the year before he broke up the Experience. "The argument is not between black and white; that's just another game the establishment set up to turn us against one another."
Whatever became of the group, Band of Gypsys remains a powerful record. It showcases Hendrix's undying drive to find new influences and creative outlets. It showed him maturing as an artist, reaching into divisive political territory. Though it may be the most underrated part of Hendrix's discography, it's one of the most important keys to understanding who he was as an artist.