What Happened to the Female Rock Star?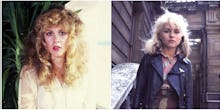 When the annual Rock and Roll Hall of Fame induction ceremony rolls around, the Hall puts a decent amount of effort into choosing the inductors. This year was no different: Fall Out Boy inducted Green Day, Stevie Wonder inducted Bill Withers and Patti Smith inducted the late, great Lou Reed.
But when it came time to induct legendary feminist rock star Joan Jett, the best they could do was Miley Cyrus. It was no doubt a strategic move in an effort to attract younger fans, but it came off as a desperate attempt to give the aging Hall of Fame youthful legitimacy. Worse, it delegitimized Jett: Cyrus' rambling speech about Oprah, Jerusalem and weed missed the mark completely. 
Rock devotees were upset about the Hall of Fame picking Cyrus to present, and for good reason. But their choice reveals an underlying problem about the state of women in rock today. Cyrus is the closest thing our generation has to a female rock star. And her model of empowerment is at odds with the legacy of women in rock.
Pop music has been having a feminist moment for a few years now, and that's a good thing. But often this popular form manifests in superficial ways. Beyoncé was compelled to announce "FEMINIST" in flashbulbs on stage. Cyrus' feminism is largely about shock value and the fact that she's in control of her own image — right down to the armpit hair on Instagram. Taylor Swift, meanwhile, has a fairly tentative relationship with the concept, but a positive one nonetheless.
But the mainstream rock feminist is different from the feminist pop star — and though we have our Sleater-Kinneys, we don't have anyone operating on the level of fame or in the way that some of the greatest rock feminists did in their heyday. A rock star is a rule-breaker, unabashed and out for blood. 
Feminism and female rock stardom are inexorably linked. Women break the rules and piss off the patriarchy when they pick up guitars, because rock 'n' roll is a man's world. One look at four of rock's greatest feminists will tell you as much.
Joan Jett: Jett was told from a young age that women couldn't play rock 'n' roll. "Even as a kid, it was so illogical to me — it's like, what do you mean? That girls can't master the instruments?" Jett told Interview Magazine. "You don't mean they can't master the instrument. What you mean is they're not allowed, socially — it's a societal thing."
Though Jett went on to become one of the most famous rock stars of all time, women today are still subject to society's anxieties when it comes to being a female rock star. 
"It's a real shame that if a woman goes onstage with an instrument, it's almost a novelty," Jack White told Spin. "Like, 'Oh, isn't that cute.' It's a shame that in 2014 that's a little bit of what's going on."
The result is that modern music has female rockers (Alabama Shakes' Brittany Howard, Courtney Barnett, Florence and the Machine's Florence Welch) and female pop stars (Beyoncé, Cyrus, Swift), but no female rock stars. 
Debbie Harry: The lead singer of Blondie also led by example. Her music was subversive and her image challenging. "How can one be a woman and not be a feminist?" she once said. Harry was not only a pioneering punk icon, but she was also quite feminine. She embraced a tough-as-nails persona that was sexy and dangerous, all while leading a band of men. She put people in such a tizzy that music journalist Lester Bangs wrote an entire biography to tear her down.
"I think if most guys in America could somehow get their fave-rave poster girl in bed and have total license to do whatever they wanted with this legendary body for one afternoon, at least 75% of the guys in the country would elect to beat her up," Bangs writes in his scathing Blondie.
Stevie Nicks: The legend from Fleetwood Mac is a rock star, because she's always been ruthlessly honest and fearless. The first time she picked up a guitar and wrote a song, it was about heartbreak, and when she wrote for Fleetwood Mac, many of those songs were about her doomed relationship with guitarist Lindsey Buckingham. But through all the struggle, Nicks was sexy and sophisticated, and strove for equality by embodying the equal. 
"We fought very hard for feminism, for women's rights," Nicks told a crowd at South by Southwest in 2013, according to Rolling Stone. "What I'm seeing today is a very opposite thing. I don't know why, but I see women being put back in their place. And I hate it. We're losing all we worked so hard for, and it really bums me out."
Nicks completely owned her femininity and her vulnerability, all while proving that she could hold her own as a creative contributor to a high-powered popular band. She completely disproved the "man behind the music" myth.
Patti Smith: Jett wasn't alone as a feminist pioneer at the Hall of Fame. Patti Smith was there that night, too. She challenged society's perceptions of femininity and strength, tearing down preconceptions as an androgynous punk-poet who also became a mother. Smith is the godmother of punk, that frothing machismo genre. "Who would think a Holden Caulfield of a girl would end up fronting a rock 'n' roll band?" she told New York magazine. 
Her biggest album, Horses, is one of the boldest works of feminist music. But she did it without too much concern about projecting the right feminist image or constructing the right feminist identity. She simply lived feminism in its purist artistic form: as defiance.
Pop's recent push for feminism is commendable, but mainstream rock stars offer something that pop stars often can't: genuine lack of inhibition. Rock stars come with the promise that they were not created by a record label, that the things they do and say truly are not calculated or designed to sell you things. We need our feminist pop stars. But we need our feminist rock stars too.