A 13-Year-Old Girl Wrote a Heartbreaking Letter Begging Not to Be Forced Into Marriage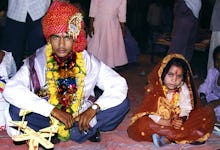 As of 2014, more than 700 million women around the world were married before they turned 18 years old, and more than a third of those did so before they were 15. One of the worst countries in the world for this practice is India, which accounts for one third of all child brides globally.
But one 13-year-old Indian girl is taking a powerful stand against this practice that violates basic human rights and can endanger their lives. In the lead-up to her arranged marriage, scheduled for Wednesday, Duli Hembrom wrote a letter to her principal, begging the school to intervene and stop the wedding her father had arranged for her in Jamshedpur, India.
"My parents have fixed my wedding on April 22. I do not want to get married," Duli pleaded. She went on to emphasize how desperately she wanted to finishing her schooling. "I took an oath at the time of admission that I will not get married before I turn 18. I do not wish to get married early," the letter said, according to India Times.
Duli is fighting for her right to stay in school and maintain at least some autonomy, as girls are generally denied an education after they are married off. 
Hembrom's father told Hindustan Times that he would not change his mind, as it was too difficult to marry off "a grown-up girl."
Child marriage is a huge issue in India. Child marriages are technically illegal in India, but the law has done little to stop the cultural practice, with perpetrators rarely being held accountable.
According to a United Nations Population Fund report, South Asia (Pakistan, Kashmir, India and Bangladesh) is the worst region in the world when it comes to marrying off girls. Between 2000-2010, the "percentage of women 20 to 24 years old who were married or in union by age 18" in India was 46%, which is notably higher than the average for the whole of the developing world at 34%.
Aside from the psychological trauma, there are also physical risks associated with this practice, according to International Center for Research on Women. "Once married, [a child bride] is more likely to be a victim of domestic violence and suffer health complications associated with early sexual activity and childbearing." 
The problem runs deep. The prevalence of child brides in India speaks to the well-documented, larger problem of gender disparity.
"Of course it's a reflection of a lot of social prejudice, but there are so many elements weaving into each other here," Jayati Ghosh, an economics professor at Jawaharlal Nehru University, told Mic. 
Ghosh explained the inability to ensure physical security for young girls plays a large role in this practice, so fathers rush to marry off their daughters before they are marred and are therefore unwanted. "In [the fathers'] minds, it's better the husband do it than someone else."
However, this isn't just a problem for India, it's a problem across the world. "Fifty-one countries across the world have a prevalence rate of 25% when it comes to girls married before 18," Suzanne Petroni, senior director for gender, population and development at ICRW, told Mic. 
Petroni said the health problems associated with child marriage are manifold. "Married girls are more likely to be HIV positive or have STIs than unmarried girls because they are often married to older men with more extensive sexual histories, and they lack the education or rights to have any control over their sex lives." Furthermore, "early pregnancy is the second leading cause of death for girls between 15 to 19 years old, globally." 
There is also a misconception that marrying off girls will be a financial relief to families, when in reality there are negative economic consequences. "If girls aren't in school, they aren't able to learn the skills which enable them to make a productive contribution to society."
Hembrom's heartbreaking letter reminds the world that child marriage is still very much a painful fate millions of young girls will face, and it is time to demand this reprehensible custom end once and for all.