Long After Her Death, Selena Is Still the Latina Pop Star We Need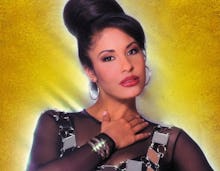 More than 20 years after her death, Selena Quintanilla-Pérez, the larger than life Tejano singer, will take the stage once again. On the singer's Facebook earlier this month, the Quintanilla family announced they are making a serious attempt to create a hologram of the Latin music legend. The Indiegogo campaign to raise $500,000 for "Selena the One" launched April 16, on what would have been her 44th birthday. But a hologram could never do justice to the unparalleled significance of Selena in Latin and American music.
Selena's legacy is strong. Just as the festival season kicks off, Corpus Christi, Texas, hosted the first Selena music festival this week — and it drew 50,000 fans. The Fiesta de la Flor music festival will be an annual tribute to her contribution to Latin music. The fact that it can draw fans in huge numbers is proof of how dominant the singer's legacy remains.
Inspiration to the stars: Though no one has been able to replicate her journey, many of today's Latin artists have walked the path Selena cut for them. The hologram isn't the first attempt to revive Selena — that was Jennifer Lopez's portrayal of her for the 1997 biopic, Selena. Lopez, the artist whose career was most impacted by Selena, became a household name after her breakthrough role in the film. Lopez told Billboard how recreating one of Selena's most memorable performances at a sold-out Houston Astrodome served to transform her career.
"For me as an actress, at that moment I had learned how to really become a performer and give everything I had to the audience," Lopez told Billboard. But that wasn't the only inspiration she'd borrow from her character's legacy.
As Lopez told Billboard, one of Selena's greatest influences was her business acumen. Selena was ahead of the curve when it came to building an empire that extended beyond her musical talent. Known for her bedazzled bra and high-waisted pants, she was a fashion icon and opened a boutique, Selena Etc. Like Selena, Lopez also channeled some of her creativity with fashion through her own clothing line. Selena's brother A.B. Quintanilla shared in an interview how his sister would design those sparkly bustiers — that fans still imitate — by herself. It was a creative way for Selena to take control of her own image in an industry that often takes control of the images of their female stars.
Crossing over: It was this business acumen, in part, that spurred Selena to try and cross over from largely Latin audiences to American ones. Every genre has an ambassador whose music excites even the most unlikely listener. She penetrated the mainstream with her Tejano music. She introduced America to a sound that originated outside its purview. In 1994, she made history by winning a Grammy for best Mexican/American album for Selena Live! Her speech exhibited to a wider audience what her fan base already knew: She was humble and driven by the faith of the people behind her. And she showed America what Tejano music was all about.
That was Selena's mission right up until her death. Her posthumous album, Dreaming of You, hit No. 1 on the Billboard 200 — a first for a Latin female. There had been only four songs that Selena recorded for that crossover album before she was killed. Jose Behar, founder of EMI Latin, her record label back then, said the music was worthy of the high sales volume, but he also recognized her tragic death in 1995 as a tragic part of her sudden exposure. Sales of Dreaming of You even spiking during her killer's trial.
A revolutionary: She is the model for artists like Shakira, Ricky Martin and Lopez. She was a "needle in a haystack," the Washington Post wrote. She was "able to identify with the Anglo masses as well as the Hispanic masses." And she remains the inspiration for latin musicians trying to do the near impossible — crossover.
Today, it's very difficult for artists who typically sing in a non-English language to crossover. On the current Billboard 200, none of albums in the top 20 are by a Latin artist, let alone a crossover act. In fact, the only other Latina to top the Billboard 200 is Lopez.
That's why established artists are still paying homage to her. Drake, for instance, recently posted an Instagram photo of himself wearing an airbrushed T-shirt with Selena's portrait. Lopez continues to pay her respects by announcing a tribute to Selena she has lined up for the Billboard Latin Music Awards. Fans are petitioning to have a Selena makeup line at MAC. Her style, the crop tops and red lips are just as relevant in today's trends. 
Selena is still everywhere. Twenty years later, the iconic singer remains a muse and an inspiration for Latin musicians. We still need her.