Little Girl Now Has Over 16,000 Reasons to Love Her Natural Hair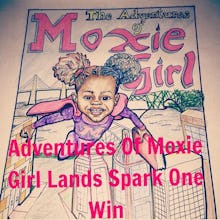 Seven-year-old Natalie McGriff used art to work through her self-esteem issues about her hair — and she ended up winning more than $16,000 for best entry for her comic book, The Adventures of Moxie Girl, at the One Spark crowdfunding festival in Jacksonville, Florida, this month.
Art is powerful; it helps people work through issues in their lives. For McGriff, her endeavor allowed her to gain a new acceptance of her natural curls — curls that her alter ego, Moxie Girl, loves because they give her the strength to fight off evil monsters.
Social stigma about black hair becomes psychological. Sensing her daughter's frustration over her hair, Angie Nixon encouraged young Natalie to express those feelings through art. "I decided to help Natalie write this book because she was having self-esteem issues regarding her hair and she hated to read," Nixon said in a statement to the New Pittsburgh Courier. "She now realizes how powerful and awesome her hair is and that in order for her to write a cool book, she needs to read more books and learn different words."
In Moxie Girl, the protagonist uses magical shampoo, which makes her curls have super powers. "She then uses her Afro puffs to fight for literacy and save the Jacksonville Public Libraries from a pack of hungry monsters looking to gobble it up," the New Pittsburgh Courier reports.
McGriff's Moxie Girl represents the power of art and of overcoming societal stigma through making it, and that makes it truly inspirational.