Rom-Coms Are Back in 2015 — and They're Better Than Ever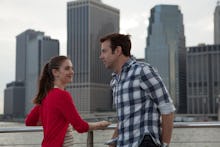 "Are romantic comedies dead?" "The romantic comedy is dead." "Who killed the romantic comedy?" "RIP romantic comedies."
It's unclear when we started so fervently scribbling the obituary for the rom-com, but the coroner would place the time of death around Katherine Heigl's The Ugly Truth. After years of surviving, if not thriving, in a formula that gave us How to Lose a Guy in 10 Days, 13 Going on 30 and others, the romantic comedy went extinct. Minor efforts in the past few years have tried to bring the form back in full swing, like last year's What If or 2012's Think Like a Man. Though there were individual successes, none reignited interest in the genre.
But 2015 is the year that will change that. From the Tribeca Film Festival alone come three new romantic comedies that, taken together, represent a great chance at a return for the form. What's more, they're all quite good, each smarter and more progressive than their predecessors.
Lake Bell and Simon Pegg's Man Up has a gross title and an unbelievable premise. Nancy (Bell) is heading to London for her parents' 40th anniversary party and encounters a peppy young woman on the train. That young woman is going on a blind date with an older divorcée, Jack (Pegg), and they'll recognize each other by carrying the same self-help book. But when Nancy winds up with the book by accident, Jack mistakes her for the woman on the train. Hijinks ensue.
Credit Bell and Pegg for selling the premise hard, as well as a script by writer Tess Morris that's far smarter than it would seem. There's an easy, affable quality to Man Up that makes even the most ridiculous moments delightful. The leading pair's chemistry is gangbusters, and the action takes some interesting twists and turns.
The film is also unflinchingly honest about what dating is like for the discouraged. Jack just wants to go through his midlife crisis in peace, dating 24-year-olds with no baggage. Nancy, who's been single for years, demonstrates it's not inherently hard for a 34-year-old to date, but it becomes much more difficult when dealing with societal pressures. There's a lot happening in Man Up, and it tells us a lot more about how we connect with others than you'd expect of a rom-com.
Similarly, Tumbledown takes what seems like an off-putting premise and makes it work. Billed as a romantic comedy, the film is a bit more dramatic than that: Rebecca Hall plays a widow whose husband was a folk singer of some renown. A reporter from New York, played by a bearded and hilarious Jason Sudeikis, comes to get her late husband's story. She is, understandably, not receptive.
Tumbledown doesn't push its romance that hard. These are two people in a strange situation, writing her deceased spouse's biography together and slowly falling for the strange, damaged parts of each other. It surprises a bit when they do start getting romantic, simply because the film is so much more than about these two people in love.
Make no mistake: Tumbledown is incredibly funny. Sudeikis is so naturally goofy, sexy without trying to be and quick with a quip. He makes for a great counterpart for the icier Hall, who plays her slow defrosting just right. This isn't easy romance for either one of them — there's real gravitas to Tumbledown, giving it far more substance than just a "Does he like her?" story could sell.
Sleeping with Other People is much more the stereotypical romantic comedy. It even borrows heavily from When Harry Met Sally, tackling the question of whether a man and a woman can just be friends. But director Leslye Headland took that template and did just about every interesting thing she could within it.
Headland, who also wrote the film, presents both her leads' perspectives equally. Lainey (Alison Brie) thinks she's addicted to being in love and repeatedly cheated on her boyfriend with her college obsession. Jake (Sudeikis) is a hook-up artist who's forgotten what it's like to date. They lost contact after they lost their virginity to each other in school, but when they reconnect, they quickly grow together as friends — and as much more.
Sleeping with Other People's standout scene is an extended seminar Jake gives to Lainey about how to pleasure a woman. It really must be seen versus described, except that it involves a juice bottle and a DJ's turntable, but to have an extended sequence in a mainstream romantic comedy focusing on how to help a woman achieve orgasm is pretty spectacular. And once again, Sudeikis is a standout — he has the potential to be an American Hugh Grant, enlivening rom-coms with his quick wit and easy sex appeal.
Yet the work he's doing here is very different than in Tumbledown. It's a remarkable amount of range for one actor working in one genre, but as he told Mic in an interview between the two films' Tribeca premieres, the differences in the films makes it so much easier to showcase differences. 
"It's still two people at odds, dealing with their own issues and finding themselves throughout the whole thing. It's a story as old as Adam and Eve, perhaps the oldest story of all time," Sudeikis told Mic. "To get to show those different sides ... I'm proud to get to do that."
These romantic comedies are smarter and more progressive than their predecessors.
All three of these films debuted at festivals; Man Up and Tumbledown this week; Sleeping with Other People at Sundance. They're all going to be hits with audiences, however, some bigger than others. It's particularly easy to see rom-com fans warming up to Man Up and Sleeping with Other People, though Tumbledown will find its own audience in the independent crowd who loved the similarly folk-heavy Inside Llewyn Davis. They'll also have company from movies like Amy Schumer's summer rom-com Trainwreck.
If they do all connect with audiences, expect to see many more romantic comedies hitting theaters in the coming years. Should the trend return, however, hope that the ambition of these three Tribeca films is in the DNA of the others. As Sudeikis put it, "The fact that they would both fall under 'romantic comedies' and they couldn't be more different — I think that's a celebration of what independent film can do when you get individual voices."
What makes these movies good isn't just the humor or the romance or the stars: It's in how they're taking the rom-com formula and making it better. They're smart, they have something to say and they're focused on women. We don't just want more of that in our movies; we need it.