Astonishing Images Show the Scale of the Massive Volcano Eruption in Chile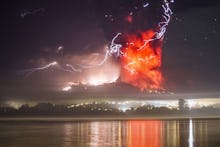 Chile's Calbuco volcano erupted twice Wednesday after being dormant for more than forty years, causing a state of emergency as a massive ash cloud spread over the area.
According to Al Jazeera, approximately 5,000 people have evacuated from towns around the volcano, which lies about 600 miles south of capital Santiago, and several flights were cancelled. Standing at roughly 6,500 feet tall, Calbuco had its last major eruption in 1961 and is one of the top three most dangerous of the country's 90 active volcanos, Mashable reports.
The Associated Press reports Chilean Interior Minister Rodrigo Penailillo gave a televised address in which he announced the government will send water to the region, as water sources may have been contaminated by large amounts of lava and ash that surged into the air. 
At least one of the cities is reportedly completely covered in ash, and residents have been warned not to go outside.
Still, many within viewing distance recorded the eruptions in video and photographs, capturing stunning images of one of the most dangerous volcanos in the country.