Here's How Colorado Wants to Spend $58M in Tax Refunds After Weed Sales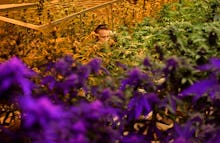 In Colorado, there's good news for pot smokers — and anyone else living in the state.
Thanks in part to sales from marijuana, the state now owes its citizens $58 million in tax refunds. Since legalizing recreational marijuana use on Jan. 1, 2014, the state has been raking in the green in various streams of tax revenue, and now voters have the choice between two attractive options: letting the state use the money for public services or returning it to voters as a refund.
Colorado law requires the state to return excess tax revenue to the people during the first year of a new tax, which in this case had been a hefty 28% pot tax. Legislators, however, are drafting a proposal that will ask voters will allow them to spend the cash, reports Denver's KGMH-TV.
If voters approve the measure, Colorado would see $40 million in pot profits channeled back into education through its public school capital construction assistance fund. Another $12 million would support things like youth programs, marijuana educations and law enforcement. The remaining $6 million would be given to the state's general fund, according to the draft of House Bill 15-1367. 
Specifically, Coloradans would see things like a $2 million "school bullying prevention fund," a million-dollar poison control center and even $300,000 for improvements to the state fair, the Cannabist reported.
Voters could alternatively reject the state's request allowing the cash to be returned through a series of direct tax breaks for residents and money sent back to pot growers. 
Good news all around: All this excess cash is more evidence legalizing marijuana was one of the smartest moves Colorado could have made. A Washington Post analysis found legal weed was a $700 million industry in 2014 and estimated that figure to grow to $1 billion by 2016. 
In 2014, the Colorado government saw direct benefits from $76 million in taxes and fees collected and undoubtedly profited from further sales taxes on weed-related income being spent elsewhere in the state economy. As the Washington Post reported, the numbers don't even take into account money spent on related products like bongs and pipes.
Fears of crime and lawlessness also proved unfounded. Both major crime and fatal auto accidents fell in Denver, the state capital, in 2014. 
Law enforcement was also put to better use with officers being taken off the pot beat to focus more on preventing real crime. In America just under 50% of all drug-related arrests are marijuana-related. Taking weed off the table for Colorado police could save the state around $12 million by 2017, according to Colorado Center on Law and Policy.
By going out on a limb to legalize marijuana in 2012, Colorado residents went into largely unknown territory. As draconian weed policy remains officially unchanged at the federal level, it was unclear how the experiment would play out. Now, though, more than two years later, it is abundantly clear that the risk paid off. In a decade or so, Americans will probably be wondering why it ever took so long to get here in the first place.
Correction: April 24, 2015