Can You Spot Why These Photos are Going Completely Viral?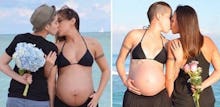 Because they're adorable... and because it's not the same woman in both photos.
Lesbian couple Melanie and Vanessa Iris Roy of North Carolina each became pregnant a year apart and documented the pregnancies on Instagram, in side-by-side comparisons. 
In January 2014, Vanessa Iris was pregnant with their son, Jax, and in January 2015, Melanie was pregnant with their daughter, Ero  — you can see Jax at their feet in the righthand photo.
The Brazilian LGBT advocacy group Grupo Arco-Iris, along with a number of others, posted the Roys' photo on its Facebook page, which helped propel the young family into a viral sensation.
"It's crazy to see that people were referring to my family as an inspiration. We are still in complete shock," Melanie told the Huffington Post.
She and Vanessa hope these photos can inspire other lesbian couples to start families. They also hope these photos will enable women to celebrate the transformation their bodies undergo during pregnancy, rather than feel anxiety over the changes. 
"The woman's body is incredible," Melanie added. "The way it creates and grows another human being is amazing. We hope that our picture is that sign that some women may need to encourage them to carry a child."
In addition to the viral photo, Melanie has documented much of the family's experience on Instagram. It's a pretty adorable collection.