Young Couples' Big Relationship Step: The IKEA Shopping Trip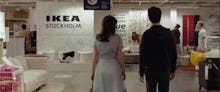 Are you ready for the Askvoll bed frame, Liatorp storage unit or Elverdam faucet? While they don't sound like romantic words, they might just signal in the next big step in your relationship.
IKEA, the ready-to-assemble furniture mega-brand, has officially become a cultural marker for modern relationships. The clearest sign? Clinical psychologist Ramani Durvasula told the Wall Street Journal that so many couples bring up shopping at IKEA in their sessions, she started integrating IKEA furniture into her couples exercises.
Assembling IKEA pieces may be tough, but it's not the mere challenge of nailing bed frames together that makes IKEA such a powerful relationship force. In an era in which we're rethinking domesticity, jumbling the traditional relationship phases and moving in together before marriage, shopping for IKEA furniture may be one of the most modern relationships steps we have.
Wall units before rings: How did the Stocksund sofa become the new step between dating and marriage? As the average age of first marriage has climbed to 27 for women and 29 for men, more and more young couples are opting to live together. According to a survey conducted by the National Center for Health Statistics, couples are living together before marriage far more than previous generations. 
"The percentage of women who were currently cohabiting increased steadily from 3% in 1982 to 11% in 2006-2010," the study notes. Young couples, who live together an average of 22 months, often have lower incomes, which means cheaper IKEA furniture is a natural fit for building a home together. 
"These days, when commitment is becoming more and more delayed, an IKEA trip may be a tacit communication of 'Hey, I think I may want to hang with you for a few years,' delivered through the symbolism of a dining table that the two of you put together," Durvasula told Mic.
The romance of domestic life: It's easy to romanticize lifelong coupledom over a quaint plate of Swedish meatballs, mashed potatoes and lingonberry jam. As a perfectly pristine showroom of domestic bliss, IKEA offers compartmentalized versions of a relationship future; the kitchenware brings to mind dinner parties, mattresses recall sleepovers and kids' furniture brings up the possibility of children.
IKEA, with 298 stores in 26 countries, plays up its role in modern domesticity. It even ran a 2014 ad campaign with the tagline "Where family starts," which featured mock family trees with photos of IKEA mattresses next to each child — a play on the "fun fact" that 10% of Europeans were conceived on IKEA beds, according to AdWeek. 
With such images swimming around our brains as we browse, the very act of shopping at IKEA has been infused with romance. Just take the memorable scene in (500) Days of Summer, in which Zooey Deschanel and Joseph Gordon-Levitt play house in a sexually charged romp through the store.
But actually buying the furniture sheds light on the reality of domestic partnership. "While couples do sometimes go together to furnish respective apartments, by bringing your partner in on the decision, there is some implication of stakeholdership — that they have skin in the game of your new armoire and can render an opinion," Durvasula said. 
That's why she has administered an "IKEA test" for many of her clients, since so many couples report fighting over shopping trips (there's a whole genre of YouTube videos of couples breaking up or fighting in IKEA, not to mention Liz Lemon's epic scene in 30 Rock). Selecting, buying and, of course, the grueling task of assembling IKEA furniture "requires communication, collaboration, trust, respect and compromise, all of the ingredients of a successful and healthy relationship," Durvasula said. 
"The idea is that the wall unit does not outlast the relationship," she added. For plenty of us, it just takes a fight or a cuddle on a Skogaby to know if the relationship is strong enough to make the "moving in" leap.