Ed Sheeran Just Pulled a Video of Himself Using Gay Slurs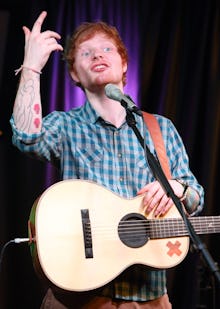 Several years ago, nice guy Ed Sheeran was caught on film drunkenly throwing around gay slurs in a freestyle rap battle. "Yo, I freestyle to the faggoty man," he reportedly raps. That video recently resurfaced, and on Tuesday night, the video was removed from YouTube, after the U.K. publication the Mirror reached out to Sheeran's management asking for a comment. His management maintained it was satire, but at the same time they've pulled the video to prevent fans from making their own judgment.
"Ed was sending up rappers who make homophobic remarks," Sheeran's management said, as reported by the Mirror. "He is clearly not ­homophobic." 
Judging by the quality of his rhymes, as reported by the Mirror — "I go on the bus and I sleep for a day, then I come back and they're like, Ed, you look like this gay" — he was probably just drunk and mocking perceived homophobia in rap. Most of Sheeran's past sober actions confirm this to be the case. Earlier this year, Sheeran also reportedly took a group of Taylor Swift's backup dancers to a gay strip club for one of the dancer's birthdays. And he bought the birthday boy a private dance. As the Mirror notes, in 2013, he tweeted at Westboro Baptist Church for picketing Swift's concert with homophobic banners.
The video-pulling fiasco is similar to the Justin Bieber's 2014 incident. A video of a 14-year-old Bieber singing a racist version of his song "One Less Lonely Girl" surfaced on the Internet. The video depicts Bieber substituting a racial slur for "girl." His management quickly tried to stomp it out, but versions of the original are still floating around.
Both incidents are snapshots of stars being young, dumb and tasteless — which both of them still are to varying degrees. But Sheeran truly is likely not homophobic. He probably was trying to imitate hip-hop language and tropes, which can often be incidentally homophobic. Still, though, it should be taken somewhat seriously — a slur is a slur, whether in jest or not. These words don't need any more traction than they already have.
h/t Mirror