U.S. Counterterrorism Operation Killed Two Innocent Hostages, White House Announces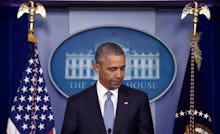 The White House said Thursday morning two hostages were accidentally killed during a counterterrorism operation on the Pakistan-Afghanistan border operation in January. 
"It is with tremendous sorrow that we recently concluded that a U.S. government counterterrorism operation in January killed two innocent hostages held by al-Qaida," the White House said in a statement.
President Barack Obama spoke after a statement issued by the press secretary. "As president and commander in chief, I take full responsibility for all our counterterrorism operations, including the one that inadvertently took the lives of Warren and Giovanni," he said.
Obama apologized on behalf of the U.S. government to the families of the hostages and offered his condolences. "As a husband and as a father, I cannot begin to imagine the anguish that the Weinstein and Lo Porto families are enduring today.  I realize that there are no words that can ever equal their loss," he said. 
"It is a cruel and bitter truth that in the fog of war generally and our fight against terrorists specifically, mistakes — sometimes deadly mistakes — can occur," Obama added during the Thursday press briefing. "But one of the things that sets America apart from many other nations, one of the things that makes us exceptional is our willingness to confront squarely our imperfections and to learn from our mistakes."
Information regarding the deaths were previously classified but were made public by order of the president in an effort to promote transparency: The "U.S. is a democracy committed to openness in good times and bad," Obama said.
The hostages. The information released revealed four people were mistakenly killed in counterterrorism operations: Two aid workers, an American and Italian who were working in Pakistan, and two Americans who had joined al-Qaida. Obama made no mention of the latter two in his statement.
"Our hearts go out to the families of Dr. Warren Weinstein, an American held by al-Qaida since 2011, and Giovanni Lo Porto, an Italian national who had been an al-Qaida hostage since 2012," the White House Press secretary's statement read. 
Two other American al-Qaida operatives were killed during this time — one during the same operation and the other during a different operation in the region — but both were also accidental. 
Endless wars. The U.S. has been fighting al-Qaida for almost 15 years now, since its leader, Osama bin Laden, took responsibility for Sept. 11.
While there have been some resounding successes, such as the capturing and killing of bin Laden, there have also been numerous failures while the war has come at an astronomical cost. Economics Nobel Laureate Joseph Stiglitz estimates the wars will cost America $3 trillion.
This is not the first time innocent lives have been mistakenly taken in American counterterrorism efforts. A U.S. drone killed 14 people in Yemen at a wedding in 2013, when they were mistaken for al-Qaida operatives.
"I can't imagine what mistaken intelligence would have led to this awful, awful mistake. What's more, it's absolutely shameful the deaths of American civilians and foreigners should be classified for so long," Ahmed Rashid, author and specialist on the war on terror, told Mic. "It's a complete blow to the media, to everyone who has a right to know and is fighting to do the right thing."
Nothing can remedy the loss of innocent lives, but a lesson can be taken from this tragic event: War comes at a heavy price and, if the last fifteen years is anything to go by, violent retaliation should be approached with a great deal of trepidation.
Updated: April 23, 2015. 11:54 a.m.