You'll Never Guess How Much Religious Support Same-Sex Marriage Has Now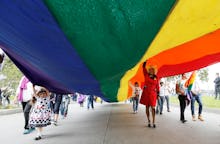 So much for the argument that religion inherently contradicts support for marriage equality. A majority of religious Americans say they support marriage equality according to new numbers by the Public Religion Research Institute — a sign that more people of faith are reconciling their beliefs and improving their understanding of LGBT people and families. 
The breakdown: The report, released Wednesday, shows that 62% of white mainline Protestants, 77% of Jews, 84% of Buddhists and 55% of Hindus are in favor of same-sex marriage becoming a reality coast to coast. Despite Catholic Church leadership remaining firmly against same-sex marriage, 60% of Catholics expressed support. 
So what is causing people of faith to change their minds about same-sex marriage?
What a difference a decade makes. When Massachusetts became the first state to legalize same-sex marriage in 2004, roughly two-thirds of religiously unaffiliated Americans supported same-sex marriage. But, at the time, there weren't any major religious groups in which a majority favored marriage for same-sex couples, according to the Public Religion Research Institute report. 
Today, 78% of religiously unaffiliated Americans support mariage equality, and Americans of faith are following suit. As more states enacted laws treating same-sex couples equally, through landmark state and federal court cases, eventually giving way to a stream of victories last year, public opinion shifted. By the end of 2014, roughly two-thirds of Americans lived in states issuing marriage licenses to same-sex couples, according to the advocacy group Freedom to Marry.
"A decade ago, the most supportive religious groups were white mainline Protestants and Catholics, with 36 percent and 35 percent support, respectively," Robert P. Jones, CEO of the Public Religion Research Institute, said in a blog post. But these days, with groups like Catholics, "support among rank and file members is now at odds with official church opposition."
The steady trend toward legalization has given way to increased support across the board. 
Looks like "religious freedom" isn't simply a matter of respecting others' beliefs — clearly, followers can remain just as faithful while arriving at their own conclusions on social issues. And with popular denominations such as the Presbyterian Church (USA) having recently approved same-sex marriage, church leaders may be catching up. 
Still, not everyone has come around. Although the increased support across faith groups is great news for same-sex marriage supporters who have navigated religious opposition for years, some major faith groups still remain opposed. For example, Public Religion Research Institute's research showed that 66% of white evangelical Protestants are still opposed to marriage equality. The same goes for Mormons (68% oppose) and Jehovah's Witnesses (75% oppose). Although 51% of Muslims don't support same-sex marriage, 44% are in favor, perhaps signaling a shift. 
What religious support could mean: Mainstream opposition to same-sex marriage has not only been rooted in homophobia, but also in public figures and others espousing their belief that marriage is between one man and one woman. Religious attitudes, as it stood, represented a major hurdle toward legal recognition and rights for same-sex couples. With that barrier now significantly diminished, it could ease the way toward a Supreme Court ruling to settle the issue this year, with the court scheduled to hear four cases next week. 
With religious opposition on a steady decline, it becomes all the more difficult to use faith as an excuse to discriminate against gay, lesbian, bisexual and queer people. That's a kind of freedom worth celebrating.