'Avengers' Stars' Sexist Jokes Illustrate a Major Problem With the Comic Book Industry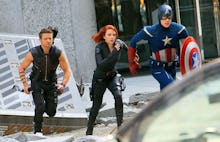 Avengers: Age of Ultron co-stars Jeremy Renner and Chris Evans came under fire Thursday for sexist comments they made about the film's Black Widow character, played by Scarlett Johansson.
In a videotaped interview with Digital Spy, Renner responds to a question about the character appearing in films with multiple male co-stars by joking, "She's a slut." Evans laughs and adds, "She's a complete whore," before Renner goes on to dismiss her "prosthetic leg" as something that "makes her undesirable," according to BuzzFeed.
Expectedly, Twitter users were not happy.
Others have called for critics not to take Renner and Evans' comments so seriously. But in the context of the notoriously male-dominated comic book industry, it's hard to dismiss them merely as jokes. 
Female superheroes and comic book characters are routinely subject to hyper-sexualization in books and film, rendered in objectifying poses and outfits that wouldn't be out of place in illustrated erotica. In a majority of cases, female characters are represented in ways that seem specifically geared toward titillating straight men, as Mic has reported previously. This pattern is augmented by real-life behavior, as fan events like Comic-Con face heightened criticism for the prevalence of "groping, stalking and unwanted photographing" of female fans, according to the Washington Post.
Sexism is a real problem in the comic industry — from books, to fan events and now movies. Marvel has not produced a film built around a female main character since Elektra 10 years ago. So until these trends are completely reversed and a systematic upheaval defines these spaces, criticisms of sexism in the industry need to be treated seriously.
Update, April 23, 3:40 p.m. EST: Evans and Renner apologized Thursday for their comments.
"Yesterday we were asked about the rumors that Black Widow wanted to be in a relationship with both Hawkeye and Captain America," Evans said, according to People. "We answered in a very juvenile and offensive way that rightfully angered some fans. I regret it and sincerely apologize." 
Renner said, "I am sorry that this tasteless joke about a fictional character offended anyone. It was not meant to be serious in any way. Just poking fun during an exhausting and tedious press tour."
h/t BuzzFeed