Loretta Lynch Just Made History as Nation's First Black Female Attorney General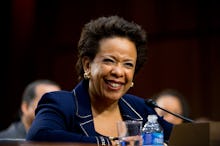 One hundred and sixty-six days after President Barack Obama nominated her to replace outgoing Attorney General Eric Holder, Loretta Lynch on Thursday was finally confirmed as the nation's next top prosecutor.
"Loretta has spent her life fighting for the fair and equal justice that is the foundation of our democracy," Obama said in a statement Thursday afternoon. "She will bring to bear her experience as a tough, independent, and well-respected prosecutor on key, bipartisan priorities like criminal justice reform."
The Senate approved Lynch's nomination by a 56-43 margin. A longtime federal prosecutor in New York, the 55-year-old finished a mostly uncontroversial round of confirmation hearings in early February. But her nomination was soon dragged into a partisan fight over anti-abortion language in an otherwise unrelated human trafficking bill.
Republicans refused to bring Lynch up for a vote until Democrats stopped blocking the legislation. The Senate passed it Wednesday, with 99-0 support. Now, Loretta Lynch will be the first black woman to lead the U.S. Justice Department.
The Senate vote: Senate Majority Leader Mitch McConnell (Ky.) was among the 10 Republicans who supported Lynch in the final tally. Of the numerous presidential aspirants in the GOP caucus, only Sen. Lindsey Graham (S.C.), who has hinted at a run, crossed the aisle to back the nominee. Republican Sens. Kelly Ayotte (N.H.), Mark Kirk (Ill.), Rob Portman (Ohio) and Ron Johnson (Wisc.), all of whom are up for re-election to the senate in 2016, also voted for Lynch.
Sen. Ted Cruz (Texas) was the only senator not present for the vote. Cruz opposed Lynch's nomination, writing in a Feb. 24 essay for Politico that approving Lynch would make his colleagues "complicit in the lawlessness" created by the president's executive actions on immigration. He did appear earlier in the day in an effort to block the vote from taking place, as a top aide noted in a tweet hours later:
How she got here: For Lynch, this marks a third successful nomination. She had been approved twice before, following nominations by former President Bill Clinton and again by Obama, as the U.S. Attorney for Eastern New York, a high-profile jurisdiction that covers three New York City boroughs — Brooklyn, Queens and Staten Island — and Long Island's Nassau and Suffolk counties. 
A daughter of Greensboro, North Carolina, Lynch graduated from Harvard University, then from Harvard Law School in 1984. She left private practice for the U.S. attorney's office in 1990, where she prosecuted drug and violent crimes cases. Nine years later, Clinton chose her to run the office, a role she reprised in 2010 at Obama's request.
Where she stands: Lynch is no favorite of the marijuana legalization community. During her confirmation hearings, she stated her strict support for pot prohibition and rejected the idea, as expressed by Obama, that weed was no more dangerous than alcohol.
"I certainly don't hold that view and don't agree with that view of marijuana as a substance," Lynch told Sen. Jeff Sessions (R-Ala). "I think the president was speaking from his personal experience and personal opinion, neither of which I'm able to share."
Neither the White House or Attorney General Eric Holder have suggested the administration's current live-and-let-live policy in states with legalized marijuana, like Colorado and Washington, would change with Lynch running the DOJ. Per 2013's "Cole Memo," the federal government has effectively ceded the issue to the states.
More controversial inside the Senate was Lynch's assertion that Obama's executive actions on immigration, which could spare 5 million people living in the country without documentation from being deported, are protected and allowed under the law. As attorney general, Lynch would have the power to file suit against the programs or refuse to defend them as they are threatened and appealed in lower courts.
Despite Republicans' reservations and a months-long wait, Lynch is now set to assume her place in American history.
"She's a great pick," a former colleague and Clinton administration official told the Washington Post after Lynch was nominated for the job last year. "Law enforcement and prosecution chops and a deep sense of compassion. That she is an African American woman from the South is just an awesome day for this nation."