10 Celebrities With the Perfect Responses for Why They're Feminists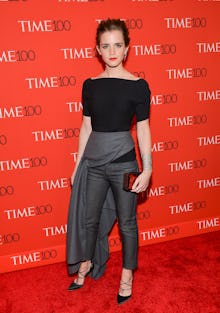 Feminists have debated how to battle the countless stereotypes perpetuated about the movement for decades. Fortunately, some of our favorite celebrities have the perfect answers to some of the most basic questions about feminism and equality. 
Here are 10 celebrities who are using their influence to explain why they're feminists and counter the biggest myths about feminism out there:
1. Zooey Deschanel: "I want to be a f--king feminist."
Zooey Deschanel took on the notion that identifying as 'feminist' somehow means a person must abandon their individual style in a 2013 Glamour interview.
2. Lena Dunham: "It's not a concept you reject."
Lena Dunham has highlighted how preposterous it is to reject a movement that seeks to benefit all. This notion, she noted at Just For Laughs in 2014, likely comes from a lack of education about feminism.
3. Amy Poehler: "Yes, I consider myself a feminist."
Amy Poehler told Time Out New York in 2013 that while many people may believe that identifying as a feminist means being indoctrinated completely into a cultlike mentality, the truth is it's actually just one informative factor of a person's identity.
4. Ellen Page: "I call myself a feminist ... 'cause it's about equality."
Feminism is hardly a dirty word, but as Ellen Page told the Washington Post, "You know you're working in a patriarchal society when the word feminist has a weird connotation."
5. Laverne Cox: "Feminism is about ... moving outside of expectations."
The feminist movement has undeniably been visually dominated by straight, white women, but better work has been done to include people of various races, gender identities and sexual orientations. Any and all socioeconomic backgrounds should be accounted and advocated for in the movement, which Laverne Cox explained well to Dame.
6. Matt McGorry: "Being a feminist is for both women AND men."
Orange Is the New Black actor Matt McGorry confessed on Facebook that he's only recently become clear on what feminism means. But now that he's aware, he's embracing the movement.
7. Joseph Gordon-Levitt: "I'm not an expert but I think the facts are [clear]."
Far too many people seem to believe the feminist movement started and ended decades ago. Joseph Gordon-Levitt thankfully pushed back on that notion in a 2014 YouTube video.
8. Taylor Swift: "A lot of girls have had a feminist awakening."
Taylor Swift admittedly had a feminist awakening, according to the Guardian. While she had spoken about not identifying as a feminist in the past, Swift recently admitted that after her friend Lena Dunham explained what the movement is actually about, she had a change of heart.
9. Beyoncé: "I do believe in equality."
Beyoncé would never attach herself to something that isn't cool. Ever. If she told Vogue in 2013 that she's a feminist, it's obviously cool.
10. Emma Watson: "Gender equality ... liberates women but also men."
Emma Watson has done great work for the United Nations organization HeForShe, a self-described "solidarity movement for gender equality." Watson been active on Twitter and has used public appearances to counter the myth that a pro-equality movement poses a risk to men.
While we should hardly peg an entire social movement to the thoughts and beliefs of individuals in the entertainment industry, it's undeniable that these same people have the ability to educate their fans. Until we live in a world where everybody understands that feminism is not a dirty word, but the fight for equality, their decision to counter stereotypes and raise awareness should be commended.