Native American Actors Walked Off Adam Sandler's New Movie Set, and Here's Why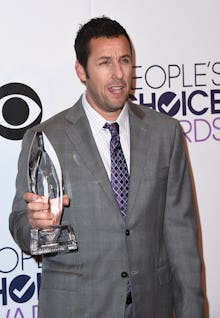 Today in not surprising news: Adam Sandler movies aren't sensitive to other cultures.
A dozen Native American actors walked off the set of Sandler's new movie The Ridiculous Six on Wednesday. The film, a satire of Westerns, apparently takes several harsh shots at Native culture, particularly women.
As reported by Indian Country Today:
"The examples of disrespect included Native women's names such as Beaver's Breath and No Bra, an actress portraying an Apache woman squatting and urinating while smoking a peace pipe, and feathers inappropriately positioned on a teepee."
The actors, reportedly most from the Navajo nation, objected to inaccurate costumes as well. One in particular, Loren Anthony, shared his disgust on Twitter:
"I was asked a long time ago to do some work on this and I wasn't down for it," Anthony told Indian Country Today. "Then they told me it was going to be a comedy, but it would not be racist. So I agreed to it, but on Monday things started getting weird on the set."
The Ridiculous Six is a parody take on the 1960 film The Magnificent Seven, itself a remake of the 1954 Japanese film Seven Samurai. It is one of the four films Sandler sold to Netflix as part of an exclusive distribution deal at the end of last year.
Controversy isn't new for Sandler. Just last year, his collaboration with Drew Barrymore, Blended, was termed "grotesquely offensive" by the New Yorker's Richard Brody. The film, which takes place at a South African resort, is loaded with racial stereotypes.
Brody writes:
"No sooner do the families arrive at the resort than the obliviously trivializing depictions of black people, based on long-superseded stereotypes, begin. The Friedmans get out of their limo and are greeted by the hotel's staff, all black, starting with a singing group, called Thathoo (pronounced "Tattoo"). The group leader's eye-rolling and glad-handing, his lubriciously insinuating and exaggeratedly jiving, all seem to be taken straight from a minstrel show."
You'd hope that, in 2015, such offensiveness from Sandler and his contemporaries would be forbidden, not celebrated with a four-picture deal with Netflix. Unfortunately, that wasn't the case: A Netflix rep reportedly told TMZ the actors were just missing the joke. It's a sad, tired response, but not a surprising one.