A Gay High Schooler Was Asked to Prom by the Most Unexpected Date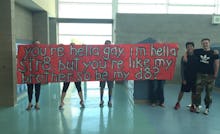 It's promposal season — the time of year when high schoolers ask the guy or gal of their teenage dreams to dance awkwardly with them for four hours. Being high schoolers, they're prone to extravagant gestures involving puns, pets and puzzles.
Jacob Lescenski, of Desert Oasis High School in Las Vegas, went with a more traditional banner approach, but his choice of date was anything but straightforward. Though Lescenski is straight, he asked his gay friend Anthony Martinez to prom.
"You're hella gay, I'm hella str8," the banner, put together by a camo pants-clad Lescenski read. "But you're like my brother. So be my d8?"
It's an adorable story — boy meets boy — with a 2015 twist. As being an ally becomes more and more a part of the high school experience, it's inspiring to see a pair of bros taking the hetero-homo friendship to new heights.
"He's a real man," Martinez said of Lescenski, according to NewNowNext. "He has the guts to fulfill my gay student council dream of always helping out planning dances, and never getting asked. I couldn't ask for a better person in my life."
Naturally, reaction on Twitter has been exuberant:
For his part, Martinez is playing it affably cool.
Martinez and Lescenski's date may just be platonic, but this is truly exciting. Those LGBTQ people who remember a much harsher high school can understand how heartwarming this promposal is to see. We can only hope their prom night will be as memorable.