The Lead Singer of Chvrches Just Destroyed Her Internet Trolls in the Best Way Possible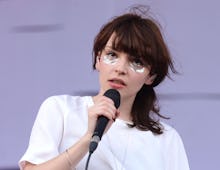 Lauren Mayberry of the British pop band Chvrches took to Instagram on Wednesday with an important message for her fans — and for the subhuman trolls who lob sexual threats at her every day. 
"My band is lucky enough to have some of the most awesome, supportive and respectful fans in the world and we are so excited to be in the studio making an album to share with them. Yet, on a daily basis, we still receive communications like this. These people never learn that violence against women is unacceptable. But they also never learn that women will not be shamed and silenced and made to disappear. I am not going anywhere. So bring it on, motherfuckers. Let's see who blinks first."
Mayberry has long been an advocate for standing up to online predators. In 2013, the singer wrote an article for the Guardian detailing her struggle with Internet misogyny. Because Chvrches was born on the Internet, via blogs and social media, Mayberry makes it her duty to put a personal touch on interactions with her fans; unfortunately, that includes having to wade through trolls to get there. 
She wrote about an incident where she posted a screen grab of an offensive sexual message on Facebook, and while many of the comments were positive, still others reacted to her post like this: "It's just one of those things you'll need to learn to deal with. If you're easily offended, then maybe the music industry isn't for you."
Wrong. Regardless of a woman's occupation, threatening sexual violence is utterly unacceptable. And that it's still unclear to some people, in 2015, is truly abhorrent. 
"What I do not accept," Mayberry wrote in the Guardian, "is that it is all right for people to make comments ranging from 'a bit sexist but generally harmless' to openly sexually aggressive. That it is something that 'just happens.' Is the casual objectification of women so commonplace that we should all just suck it up, roll over and accept defeat? I hope not. Objectification, whatever its form, is not something anyone should have to 'just deal with.'"
Hear, hear.