In One Quote, System of a Down Says What Obama Won't About the Armenian Genocide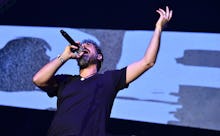 System of a Down are essentially the Armenian Beatles. In past interviews, Serj Tankian skirted the term, but he still acknowledges that their status in the country is "unparalleled." And this past week, they've used that celebrity to take a stand. In remembrance of the 100th anniversary of the 1915 Armenian genocide, System of a Down played their first show in Armenia. 
And in the round of press promoting their tour, they've done what President Barack Obama has refused to do the past six years — described the conflict for what it really was: a genocide.
Remembrance: Every year, on the anniversary of the Meds Yeghern, which means "great crime," Obama has issued a White House statement of remembrance. And each time he has refused to use the word "genocide," even though the word was coined to refer in part to the tragedy that took place in Armenia.
To this day, the Turkish government still denies that the systematic killing of Armenian Christians by Ottoman Turks — well-documented in scholarly literature — ever happened. They claim it was only the casualties of war. Earlier this week Mevlut Cavusoglu, Turkey's foreign minister, promised Obama that use of the term "genocide" would have a "detrimental effect" on Turkey-U.S. diplomacy, according to the Washington Post.
System of a Down are not going to let the truth get swept under the rug. They've made explicit references in their past songs to the Armenian genocide — one of their earliest on "P.L.U.C.K," off their 1998 self-titled debut. All four members have family from Armenia and either lost family in the pogroms or grew up hearing stories of their escape. Making sure the genocide is remembered is more than just a political stance for them. "Some people call it political; sure, there's many political aspects to it," Tankian told NPR. "But because all four members of the band are Armenian-American, it's personal."
The band says using the word "genocide" is an important first step. 
"When you talk about a genocide, when you talk about a holocaust, using a world war as a pretext is offensive above everything else," Tankian told NPR, detailing the extent to which the Turkish government goes to spread misinformation and lobby politicians not to use it. "We'd be happy if they stopped with the disinformation before accepting it, even one step at a time."
The concert, which can be seen in full below, will hopefully do some work bringing the issue to the world's attention. Perhaps one day the world will see for the 1915 pogroms for what they really are. And the one and half million dead can rest easy.