Watch the Shocking Video of Abuse Inside New York's Rikers Island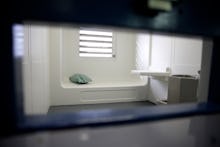 Kalief Browder was 16 years old in 2010 when he was arrested for an alleged robbery and sent to Rikers Island in New York City to await trial. Over the next three years — as revealed in an interview and through video obtained by the New Yorker — he would be beaten by guards, attacked by mobs of fellow inmates and left in solitary confinement for months at a time. On May 29, 2013, after 31 court dates but no trial, the city dropped its charges. Browder was on a bus home the next afternoon. If his mother had been able to make his $3,000 bail three years earlier, he would have been out in a day.
Browder's ordeal, as first reported by the New Yorker in 2014, lays bare routine, yet shocking, abuses inside the courtroom, where where Browder's Sixth Amendment right to a speedy trial was repeatedly violated, and in jail, where he was the victim of at least two — but likely dozens more — physical assaults.
Two of them were captured on tape, and a recording was obtained by the New Yorker:
Guard violence: After nearly two years in jail, still awaiting trial, Browder is led from his cell in the Central Punitive Segregation Unit — where he was held in solitary confinement — to a shower.
As they walk, Browder appears to say something to the corrections officer, who throws him head-first into the concrete floor:
Soon, other officers appear, and Browder is further restrained. The bruises on his face were treated by the jail's medical clinic, whose staff reported they were cause by either an "alleged attack by staff" or "hitting his face into the shower wall," according to files retrieved by the New Yorker.
Browder told the New Yorker he was given more time in solitary as a result of the incident. 
"After that happened, to be honest, I was scared to come out of my cell to get in the shower again, because I felt, if I come out of my cell and he slams me again, then I'm going to get more box days" in solitary, he said.
Gang attack: Browder had been at Rikers for a little more than five months, he said, when a "gang leader" in his housing unit spat in his face. Later that night, according to a detailed New Yorker account, Browder says he punched the teen who had spit at him. At least 10 inmates surrounded Browder and began to beat him:
Even after the single corrections officer present finally drives the group back (the second guard didn't arrive until 30 seconds after the beating began), the other inmates continue to drive toward Browder, kicking and punching him.
Eventually, the guards move Browder into an adjacent room, but the other inmates quickly knock down the door and continue their assault. They only back down when the first guard — who has been present for the entire two minutes — breaks out what appears to be a canister of pepper spray.
Watch the full video here:
One of many: Browder's case, from the long terms in solitary confinement — two of this three years were spent in isolation, according to the New Yorker — to the abuse or neglect by corrections officers, is not unique. At any given time, Rikers Island holds an estimated 11,000 inmates, many of them young people awaiting trial on the city's congested court schedule. In December 2014, New York Mayor Bill de Blasio banned the solitary confinement of 16- and 17-year-olds, a move that was later expanded to all inmates under 21. 
A few months earlier, U.S. Attorney Preet Bharara had filed his own report on the situation at Rikers. His findings were clear-cut and scandalous:
"Inmates see others being beaten and attacked and are afraid that they will face the same fate ... Simply put, Rikers is a dangerous place for adolescents and a pervasive climate of fear exists," Bharara's team wrote. 
Speaking later, Bharara described Rikers as "a place where brute force is the first impulse rather than the last resort; where verbal insults are repaid with physical injuries; where beatings are routine while accountability is rare."