These People Tore Open an Apple Watch — Here's What They Found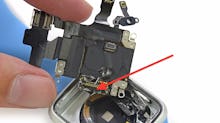 The Apple Watch is a sleek, gorgeous, expensive piece of technology — so there's nothing more satisfying than watching it get ripped apart to see the gadget's insides. 
Thanks to the enterprising folks at iFixit, we can. They've documented each step of the disassembly process, explaining the role each part plays.
Apple Watch contains about 14 separate pieces.
Apple Watch is held together by some of the smallest screws iFixit has ever seen: 
The team had to file down a drill bit to get the screws out.
The battery, which Apple claims lasts 18 hours, stores less energy over time than some other smartwatch batteries:
Samsung's Gear Live and Motorola's Moto 360 each have 300 mAh (milliamp hour) batteries, while Apple Watch's battery has 205 mAh. 
The watch uses the famous Taptic Engine, which gives you a subtle prod on the wrist when you get a notification:
The Digital Crown helps users navigate the display: 
Here are the guts of the Apple Watch. 
Apple Watch's core computer is known as the S1, and we know very little about how it works. 
The cap on top of the S1 isn't a lid that can be popped off — it's a solid block of resin for protection. Removing the S1 also ripped out a few cables that were soldered in. Apple has made the Watch's internals very difficult to swap and upgrade.
From 9 to 5 Mac: 
The teardown images show the internals of the Apple Watch compared to the internals of a classic mechanical watch. The teardown experts point out that while the required tools to repair an Apple Watch are different from those required for a mechanical watch, the process will not be easy and will most likely require an expert.
The Apple Watch hit select stores Friday, so you can be sure your Instagram feed will soon be clogged with friends doing their best Beyoncé impression.
h/t iFixit