19 Times Amy Schumer Dropped Some Serious Honesty Bombs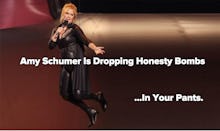 You can always rely on comedian Amy Schumer to tell the truth, whether it makes you laugh or cringe. In an homage written for the Time 100, actress Tilda Swinton composed this little ditty about her equally funny and insightful pal:
"Amy's got your back. She's in your corner. She's an honesty bomb. And she's coming for you."
From her hit Comedy Central show Inside Amy Schumer, the season premiere of which blew audiences away, to her hilarious turn hosting the 2015 MTV Movie Awards to making Laverne Cox squeal with glee ("YES, AMY! WERK! WERRRRK!") upon falling in mock reverence in front of Kimye last week during the Time 100 gala, Schumer has spent her entire career dropping honesty bombs left and right. 
Schumer derives comedy from her experience of living as a woman in a male-dominated world. If female comedians are leading the feminist movement in 2015, Schumer is at the front of the pack. 
Not convinced? Here are 19 times Schumer really got to the heart of what it's like to be a woman:  
2. That time she told the truth about those dick pics
3. That time she just owned her identity
4. That time she couldn't tell if a friend's pregnancy was a good thing or a bad thing
5. That time she took on the difference between male and female comics 
6. That time she told us to admit that some of us get out there more than others
7. That time she nailed how invincible we want to feel after a Soul Cycle session
8. That time she nailed what hecklers are really coping with
9. That time she knew some trans women have a leg up
10. That time she got real about how much we really like sandwiches 
11. That time she got down to brass tacks regarding Channing Tatum's abs
12. That time she reminded us what all these songs about butts are really about
13. That time she nailed your Friday night
14. And your Saturday night
15. That time she put Hollywood on blast for its ridiculous standards for women
16. That time she told you she's not trying to please anyone but herself
17. That time she called out America's racist hypocrisy
18. That time she decided to just flaunt it
19. That time she admitted that she's just a bit much
Keep dropping those bombs, Amy. We'll keep watching.