Bruce Jenner Just Made History Breaking Down America's Myths About Gender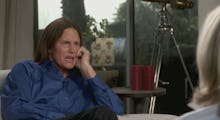 After more than a year of speculation over Bruce Jenner's gender identity, the former Olympian revealed to Diane Sawyer on Friday night that he is a transgender woman.
"I am a woman," Jenner, who for now said he prefers male pronouns, said during the powerful interview on ABC's 20/20. "People look at me differently. They see you as this macho male but my heart and soul and everything that I do in life is a part of me — that female side is part of me, it's who I am."
Jenner also said his journey to making such a public declaration was not easy, but he knew that sharing his coming out story publicly would have the potential to change lives. 
"We're going to make a difference in the world with what we're doing," he said.  
If Twitter is any indication, the interview was a resounding success, with many — from movie stars to LGBT activists — tweeting their support for Jenner's bravery, and pointing out that this was a momentous occasion in the fight for trans rights.
"Millions of people learned that someone they know is transgender" during the interview, GLAAD President & CEO Sarah Kate Ellis said in a statement Friday night. Indeed, Jenner's ABC interview was one of the first platforms to educate America on the spectrum of gender as well as how sexual orientation ("who you go to bed with," as it was put during the interview) differs from gender identity ("who you go to bed as").
But now that Jenner, 65, has shared his truth, it's time to take a step back and face an important fact: America still has a lot to learn about what it actually means to be a transgender or gender-nonconforming person, largely because there have been very few conversations about the subject. 
Jenner's journey: The media had gone wild in the lead up to the event; tabloids and talk shows heavily policed Jenner's every move for months. The widespread fascination with Jenner's gender identity came on the heels of a very public divorce with Kardashian matriarch Kris Jenner. Many media outlets speculated that a potential change in Jenner's gender identity caused the split. After the split, Jenner, who has kept a lower profile in comparison to his famous kids and wife, attracted more focus from the cameras than ever before.
With that increased visibility came an onslaught of gender-policing and attempting to affix a label to his gender expression. Tabloids regularly commented on aspects of Jenner's outward appearance, like hair length, manicures, facial structure and possible makeup. InTouch Weekly went so far as to put Jenner on the magazine's cover dressed up in conventional feminine attire and reportedly airbrushed makeup, announcing his "life as a woman" before he could publicly claim an identity for himself.
The New York Daily News has also tracked Jenner's "extreme transition" by publishing photos that examined the athlete's look through time. The Daily News juxtaposed the recent emergence of "lengthy locks," earrings and French manicures with Jenner's brawny image as an Olympic gold medal-winning decathlete during the 1970s. On Tuesday, just days before Jenner's interview aired, the Daily News released photos of Jenner stepping outside of his home for a cigarette break while wearing a striped dress.
The intense media scrutiny and mocking got to the point that Jenner said he contemplated suicide on the evening paparazzi caught him going to a plastic surgeon for a tracheal shave. 
"That night I thought, 'It's over,'" Jenner said during the interview. "I was in this walking up and down this hall back and forth all night long, heart pounding. I thought, 'Wouldn't the easiest thing to do right now is go in the other room, get a gun. Pain is over. Done. Go to a better place.' But then I thought, 'I can't do something like that. I want to know how this story ends.'"
None of this was necessary. Rather than ask authentic questions to encourage compassion for trans people's lives, the speculation surrounding Jenner's identity devolved into transphobic tropes. Jenner's body became a target for sophomoric punchlines, like Jamie Foxx's messy quip at March's iHeart Radio Awards.
Trans, gender-nonconforming and intersex people deserve more than being the butt of jokes, considered "trendy" or fodder for big ratings bumps that capitalize on perverse curiosity about trans bodies and sensationalize their lives. It's beyond time that trans narratives be respectfully and seamlessly incorporated into mainstream conversations, in ways that celebrate the reality that gender exists along a wide spectrum of beautiful possibilities.  
Hopefully Jenner's coming out helps do just that.
"Have an open mind and an open heart," Jenner said to Americans tuning in. "I'm not this bad person. I'm just doing what I have to do."