The Next 'Hunger Games' Book Is Here, and Its Heroes Are People of Color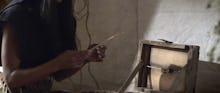 In a school surrounded by mountains, hundreds of students are trained in a set of special skills. Four students must take those skills and prove themselves in a series of trials. That setup likely sounds familiar to fans of Harry Potter and the Goblet of Fire, but Blackcliff Academy isn't for wizards. It's for trained killers.
These trials aren't just a contest to find a winner, either. They're to find the next emperor of a bloodthirsty, suppressive empire. And one of the contestants wants nothing more than to lose.
An Ember in the Ashes, a new novel from former Washington Post editor Sabaa Tahir, is a dark subversion of young adult storytelling tropes. Grim reaper-types threatening rape and murder linger just beyond every corner, and unlike in The Hunger Games, few of the child killers feel a moment's hesitation about their murderous work. Ember takes the seemingly worn-out genre of dystopian YA — so tired that it has an enormously popular Twitter account mocking its recurring conceits — and makes it fresh and exciting once again.
Yet the most subversive part of this novel is something entirely different. An Ember in the Ashes, already optioned for a film adaptation and heavily anticipated to become a cultural phenomenon, features people of color as its heroes.
Tahir came up with the idea for Ember while working nights at the Post. Though she'd always been a fan of epic fantasy and took many cues from that world, most of the inspiration came from stories about the darkest parts of other countries.
"I kept seeing these stories about the most voiceless, powerless people in the world," Tahir said in an interview with Mic. She was inspired to write about a girl fighting to save her brother "after reading about military forces in Kashmir that make men 'disappear' from families. "It really bothered me. I have two older brothers, and they're both my best friends. I just thought, what if I was over there and they were both taken from me? What could I do to get them back?"
Tahir's first protagonist, Laia, was formed by her own experiences. "She's not particularly brave. She's not Katniss Everdeen," the author said. "But she's very determined, and she loves her family." The other, a reluctant agent of the empire named Elias, came from her worst fears about her relationship with her son. Elias' main opposition is the Commandant, a fiery woman quick with her whip, who is also his mother.
"She's not particularly brave. She's not Katniss Everdeen," Tahir said. "But she's very determined, and she loves her family."
An Ember in the Ashes is a progressive book, but in an organic way. Three of the four main characters — Laia, the Commandant and another girl named Helene — are female, which stands out in such a violent world.
"I think that women are just as powerful as men, and so I just tried to represent that in the story," Tahir explained to Mic. "It was very natural for me. I've always been surrounded by really strong women, and I pride myself and my friends and my family on how incredibly strong and brave we are."
Yet Ember is most progressive in its diversity. The two biggest YA franchises in the world — Harry Potter and The Hunger Games, Ember's two closest predecessors — both star predominantly white faces. To see a story that not only features strong women, but strong people of color, is long overdue.
"We live in a world that's extremely diverse. I wanted to reflect that in my book," Tahir said. But despite differences in race (Helene and the Commandant are fair-skinned, as opposed to Laia and Elias), the author made their differences much more than skin-deep. "I wanted to create a world where, yeah, there's absolutely divisiveness. It's based on culture, and it's based on where you live. It's based on your heritage. But I wanted to not have that be about skin color. ... It's the way they think that really differentiates them."
"We live in a world that's extremely diverse," Tahir said. "I wanted to reflect that in my book."
For Tahir, the importance of creating a narrative that features people of color goes all the way back to childhood. "I grew up in a town where my family was one of the only South Asian families for years. We used to deal with a lot of hate and a lot of racism," she explained. "I wanted books when I was young where I could see myself. There was one — one book! — in elementary school in which I saw myself."
That book, Seven Daughters and Seven Sons, wasn't enough for Tahir. It led to her plunging herself into fantasy novels, particularly Harry Potter, which she called "my childhood" and from which she drew major inspiration.
"The wonderful thing about YA is, everyone who's writing now, we are all standing on the shoulders of these incredible people who have come before," she said, nodding at authors like J.K. Rowling and The Hunger Games' Suzanne Collins.
But Ember will have to stand on its own. Though the success of books like The Hunger Games gives hope that Tahir's book will be a success, featuring people of color and a darker, grittier world is a risk. Yet for Tahir, it was one worth taking, and the end result is a book both hugely powerful and immensely entertaining. If the world is truly ready for An Ember in the Ashes, it will be rewarded with one of the best and most inclusive YA books to come along in ages. That alone is cause for celebration.
Correction: April 28, 2015