14 Powerful Images From the #FreddieGray Protests Rocking Baltimore This Weekend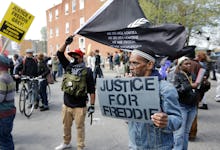 Hundreds of protesters took to the streets of Baltimore on Saturday to protest the death of Freddie Gray, a 25-year-old black man who died this month while in the custody of the Baltimore Police Department.
Gray was arrested April 12 following a foot chase by officers. According to the New York Times, after Gray was "chased and tackled by officers," cellphone video taken by bystanders captured Gray "asking for assistance while on the ground and screaming while being dragged" to a police van. CNN reports that while in police custody, Gray was shackled with leg irons and his obvious physical distress was ignored for at least 50 minutes. Despite falling on the floor, Baltimore police did not buckle Gray into his seat in violation of their own guidelines.
At some point during this process, Gray suffered a fatal spinal injury and died Sunday. USA Today notes that police have still not disclosed why Gray was arrested in the first place.
Saturday's demonstration featured much of the same imagery as previous ones held to protest the deaths of Michael Brown, Eric Garner, Tamir Rice and other black citizens killed by police over the past year. Here's a look at the scene in Baltimore:
One demonstrator held a sign alluding to a Bible passage in which Jesus says he has been sent to "proclaim good news to the poor" and "proclaim freedom for the prisoners and recovery of sight for the blind, to set the oppressed free":
Others chanted "all night, all day, we will fight for Freddie Gray":
A billboard in Baltimore even displayed a sign proclaiming that black lives matter.
The streets were flooded:
Earlier this week, the Department of Justice announced that it would begin an inquiry into the circumstances of Gray's death amid a local investigation. Six officers have been suspended with pay pending the outcome of the investigations.