Watch President Obama's Full Speech at the White House Correspondents' Dinner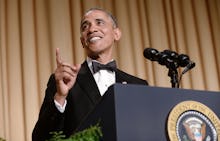 On Saturday night, D.C. political and media luminaries gathered to toast (and roast) President Barack Obama at the 101st annual White House Correspondents' Dinner.
The event, which celebrates the accomplishments of the White House Press Corps and is often referred to as "Nerd Prom," was hosted by Cecily Strong of Saturday Night Live fame. Other speakers included CBS News' Major Garrett and first lady Michelle Obama (the latter joined by Bloomberg correspondent Margaret Talev).
As usual, it featured no shortage of ribbing directed at the capital's most prominent people. There was also a cutting performance by the POTUS himself, whose previous addresses at the dinner have typically included some harsh jabs at his political enemies.
Watch President Obama's speech below:
Among the highlights was President Obama's jab toward those who still believe he's Muslim. "Anyway being president is never easy. I still have to fix a broken immigration system, issue veto threats, negotiate with Iran. All while finding time to pray five times a day, which is strenuous," Obama said.
Obama had another zinger in reference to Indiana: "We've gotten so close in some places in Indiana they won't serve us pizza any more."
Cecily Strong had a host of great jokes of her own. Here's her full speech:
All told, Variety reports that annual attendance for the event is roughly 2,600, including "journalists, media executives, celebrities and powerful D.C. figures... the majority of whom don't shrink from expressing their opinions." The tone of the event is usually a respectful roast of the chief executive. Occasionally, though, the dinner veers into controversy, as 2006 keynote speaker Stephen Colbert demonstrated in a now-infamous routine mocking the Bush administration's ineptitude in Iraq and anti-intellectualism.