While the DC Elite Joked About Police Violence, Here's What Was Happening in Baltimore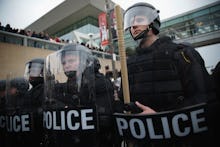 On Saturday night, the political and media elite gathered for the annual White House Correspondents' Dinner, an evening of revelry for the national media featuring speeches by the president himself.
While the media celebrated in D.C. with a menu that included crabmeat terrine, paprika-rubbed filet mignon and seared Alaskan halibut, an hour away in Baltimore protests over the death of 25-year-old black man Freddie Gray at the hands of Baltimore police had reached a crescendo. As host Cecily Strong cracked jokes about the seeming impunity afforded to police who kill black men in America, an entire community struggled with the pain of just that.
Attendees at the D.C. event wore Forevermark diamonds and Armani tuxedos; people in Baltimore wore shirts saying #BlackLivesMatter and carried signs decrying police brutality. Others wore riot armor and clenched batons.
This was D.C. last night:
And this was Baltimore:
This is the difference between what life looks like for the haves and the have-nots. While the chattering class in D.C. was patting itself on the back for their accomplishments this year, people in Baltimore were busy being "dispersed" by the same police force they were protesting against. Some of them were shoved into the same kind of van in which Gray suffered from a severed spine. When a small minority of the crowd brawled with bystanders and police and broke some windows, the whole demonstration was painted as having turned violent.
Certainly it would be unfair to blame the events in Baltimore (and New York, and Ferguson) on any individual member of the filet-eating set. Many of them actually do good work highlighting racial and class disparities in the United States. But the relative opulence of the White House Correspondents' Dinner versus the pain in Baltimore is illustrative of how deep the divide between these two Americas goes.
"Let's give it up for the Secret Service. I don't want to be too hard on those guys," host Cecily Strong joked during the dinner. "You know, because they're the only law enforcement agency that will get in trouble if a black man gets shot."
It's a funny joke. But it's also real in a way Strong might not have intended.
While Baltimore was suffering, CNN's 24/7 news apparatus was nowhere to be seen. The network couldn't be bothered to cover the intense events happening just a short drive away, even for a few minutes. Instead, CNN contributor Errol Louis explained that "the most powerful man in the world is going to tell some jokes" and added that people can "find out all of what happened in the streets of Baltimore by this time tomorrow."
A few on Twitter noted this infuriating dichotomy:
Local journalists were angry, to say the least. After a week of solid coverage, CNN "focused its cameras on this self-aggrandizing exercise in black-tie narcissism while just 55 miles down the road civil unrest led to smashed car and store windows, convenience store looting and vandalism, and more than three hours of face-to-face confrontations between police and protesters that led to gridlock on the streets of downtown Baltimore," writes the Baltimore Sun's David Zurawik.
"The police were far more aggressive than I had seen them in the five hours before," he continued. "I saw one officer injured and five persons arrested in the space of 10 minutes just before midnight."
As Baltimore rose up, it was being ignored. Bad timing doesn't excuse that. What's more, the short shrift given to protesters on Saturday is symptomatic of a larger problem. For all the high-minded talk of finding a solution to the seemingly intractable problem of police brutality across America, the establishment can't even keep accurate tallies of how many people are dying in the meantime. Worse, most affluent white Americans don't seem to care.
Last night, there were two Americas. One that grows fat off the hog, and one for which nothing ever changes. This is a sad tale that happens all the time in this country; this time we just have a nice visual comparison to illustrate it.