Then and Now Photos of Nepal Show the True Devastation of 7.9-Magnitude Earthquake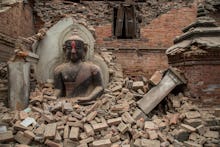 With the death toll now at now estimated at over 2,100, according to ABC, the 7.9-magnitude earthquake that hit Nepal on Saturday is one of the worst natural disasters in recent memory. With countless lives lost and major archaeological and historical sites irreparably damaged, the devastation in Kathmandu and elsewhere is truly awful.
Photos taken from before and after the earthquake show just how much damage the earthquake has wrought in this South Asian nation, where rescue efforts continue and the full scale of the tragedy may not be known for days.
1. Dharahara Tower, Kathmandu
This historic nine-floor tower was constructed in 1832. USA Today reports that many people are feared trapped under the rubble, although it is unclear how many may have been sightseeing at the tower when it collapsed.
2. Maju Deval, Durbar Square, Kathmandu
Lonely Planet says that this temple to Shiva, built in 1690, boasted a "nine-stage ochre platform" that "is probably the most popular meeting place in the city."
3. Boudhanath, Kathmandu Valley
According to the Nepali Department of Archaeology, Boudhanath is the largest stupa (Buddhist reliquary) in Nepal at 36 meters in height. Though the main structure remains standing, witnesses told CNN that damage was visible to the main structure and more severe harm was done to a neighboring stupa.
4. Basantapur Durbar Square, Kathmandu
5. Pashupatinath Temple, Bagmati River
Hundreds of earthquake victims were cremated outside Kathmandu. According to the Times of India, "relatives jostled for space in the vast area to cremate the dead. Lack of adequate space forced hundreds to perform the last rites outside the designated spots."
6. Mount Everest Base Camp
An avalanche tore through the Nepali base camp at Mount Everest shortly after the earthquake, killing at least 18 climbers, guides and staff and injuring at least 61. More people may be missing, and climbers are stranded on the mountain thanks to the destruction of routes leading up the mountain.