The Five Best Jokes You Need to Hear From the White House Correspondents Dinner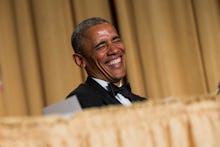 On Saturday night, the White House Correspondents' Dinner kicked off with much noise and aplomb as D.C. elite gathered to celebrate a year of accomplishments by the White House Press Corps — and also to hear President Barack Obama do a comedy routine. As CNN's Errol Louis put it, "the most powerful man in the world is gonna tell some jokes."
There's a lot to be said about how the relative opulence of the event stands in stark contrast to the stories the news often covers (more on that here). As protests raged in Baltimore, in D.C. affluent media bigwigs and plutocratic politicians gathered to rub shoulders and congratulate each other on the past year.
But both host Cecily Strong and President Obama used the occasion to fire back at attempts to police women's bodies, police brutality and the administration's right-wing critics. The result was two very funny speeches that jabbed back at the media and political crowd's tendency to pat themselves on the back. The president definitely held his own this year, keeping up his record of insightful, cutting and slightly risque humor at previous appearances.
Here are the five best jokes from Strong and the POTUS from this year's dinner:
1. On which law enforcement agencies are held accountable
2. On congressional priorities
3. The POTUS himself, on his bucket list
4. On the Biblical apocalypse
5. On his "Anger Translator," Luther
Watch the president's full remarks below: