Terrifying Video Captures the Moment an Avalanche Wiped Out the Mt. Everest Base Camp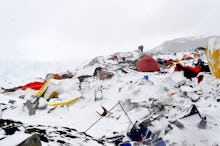 It takes just seconds. Mountaineers recording footage at the Nepali base camp at Mt. Everest on Saturday caught the exact moment a major avalanche wiped the encampment out, sending climbers and guides running for cover and destroying many of the camp's tents.
German climber Jost Kobusch posted the footage to YouTube showing climbers noticing the ground was rumbling. Seconds later, a gigantic cloud of snow and ice heralds the arrival of the massive snow slide:
The avalanche was the result of a 7.9-magnitude earthquake that struck near Kathmandu, Nepal, on Saturday, which crumbled buildings and monuments in the capital city and apparently jostled the mountains of snow free from the side of the world's tallest peak. The earthquake's results were devastating; the death toll is now estimated to be at least 2,500 people, many of whom were crushed by falling debris in cities.
At the Mt. Everest base camp, the Weather Channel reports at least 18 are feared dead and many more injured. Some climbers are stranded on the peak, while others remain missing. According to Bloomberg, injuries came from the crushing flow of snow and ice as well as innumerable rocks and other objects hurled forward at great speed by the avalanche.
Vice compiled some other footage of the quake recorded by other climbers, such as this clip from Jelle Veyt:
As well as this footage from blog Use the World:
Climber Sean Wisedale described the incident on his blog.
"Many cook staff and climbers were in their tents at the time. Fortunately our camp was protected by a high ridge," Wisedale wrote. "Still, we were hit by a hundred meter high plume of crystallised ice about a minute after the quake. We all dived into our safest and most shielded tents. The horror was unimaginable as it went completely dark and we huddled around hoping not to be crushed alive."
"The tent held up," he continued. "A minute later it had passed but we all knew there were going to be casualties."