9 Non-Ivy Colleges That Give Students a Better Bang for Their Buck Than Harvard or Yale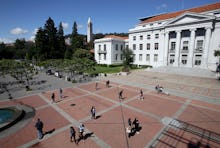 Harvard only accepts 5.8% of applicants. Columbia and Yale are right behind at 6.9% each. While many graduates of these prestigious schools embark on careers of fabulous wealth, not getting admitted is, in many ways, a blessing in disguise. 
Why? Better value lies elsewhere. According to data compiled by the information company PayScale, Harvard's median annual return on investment (ROI) is only 7.1%. This puts it in a rough tie for 323rd in America. While factoring in the initial investment of attending college, ROI indicates the increase in potential future career earnings for attending college versus forgoing the four years of education. 
Legions of America's public universities, and quite a few private ones, require much less from students financially, and deliver a lot more. Here are nine of the country's top schools that satisfy both minds and wallets. 
1. Georgia Institute of Technology 
Median annual ROI (in-state): 12.5%
Median early career salary: $62,300
While the school mascot might be a "Ramblin' Wreck," Georgia Tech is anything but. Nestled in the Peach State's metropolis, the Atlanta institution ranks in America's top 10 public universities. If you're in-state, the base tuition (not including admittedly pricey room and board) is under $10,000 a year, while the school awards over $100 million in financial aid. Georgia Tech grads work in a diverse range of fields; notable former students run the gamut from comedian Jeff Foxworthy to former president Jimmy Carter.
2. Harvey Mudd College
Median annual ROI: 8.7%
Median early career salary: $76,300
This small California liberal arts college punches well above its weight when it comes to preparing students for life in the wider world. The school ranked among the highest in the nation for median career starting salary, with a healthy 8.7% ROI. The college was also first for mid-career salaries, with alumni taking in an eye-watering median of $137,800. Many successful alumni found work in software and engineering. The school's average student debt, meanwhile, is $21,920, well below the nation's average.  
3. Brigham Young University
Median annual ROI: 12.5%
Median early career salary: $53,200
Brigham Young University, the small Mormon college in Provo, Utah, scored an impressive 12.5% annual ROI for its alumni, placing it in a tie for first in the nation along with Georgia Tech. Starting salaries among grads were also a solid $53,200, especially impressive since only 20% of students pursue lucrative STEM subjects. BYU really shines with tuition and housing, which together came in under $13,000 in 2014-2015. Even the Mormon church's controversial stance regarding LGBT rights is softer at BYU, where the school's "honor code statement" no longer prohibits "advocacy" of same-sex attraction.
4. Rice University 
Median annual ROI: 7.9%
Median early career salary: $65,500
You couldn't make a list of awesome universities and not include Texas's Rice University, where graduates can expect to make an early career salary of $65,500 and see an almost 8% return on their investment right out the gate. Despite being a major research university, Rice still manages to keep an intimate feel, with a median class size of just 15 students. The school's endowment of more than $5.5 billion in 2014 was more than ivies Dartmouth and Brown and put Rice among the wealthiest academic institutions in America. And while it's not cheap, the school is generous with financial aid. Of 413 applicants found to have financial need, 412 received aid in the 2013-2014 school year.
5. University of California, Berkeley 
Median annual ROI (in-state): 9.9%
Median early career salary: $60,200
At Berkeley, the numbers speak for themselves. With typical starting salaries at more than $60,000 for alumni and an in-state ROI of just under 10%, it's not hard to see why Berkeley is rated as the best public school in the U.S. Taking in less than 18 out of 100 applicants, Berkeley has achieved distinction across a wide cross-section of disciplines. It places just under Harvard and Princeton in philosophy and number one in environmental engineering. That might be why student satisfaction, as measured by the school's average freshman retention rate, is 96.8%.
6. University of Virginia
Median annual ROI (in-state): 10.6% 
Median early career salary: $55,000
Another prize from America's top-notch public institutions, the University of Virginia's main campus trails only Berkeley as the best public school in the U.S. Founded in 1819 by America's third president, Thomas Jefferson, the school has a more than 10% in-state ROI that may have something to do with an in-state tuition just under $13,000 a year. Like BYU, UVA manages to shine despite its students largely eschewing lucrative STEM subjects. Instead, the school's most popular majors are things like international relations and business. UVA shows that not everyone needs to be a software engineer to make it after graduation.
7. Oregon Institute of Technology 
Median annual ROI (in-state): 11.0%
Median early career salary: $58,800
If you love tech and OIT doesn't ring a bell, it might be one to put on the list. This public school located in picturesque Klamath Falls, Oregon, knocks it out of the park with an 11% in-state ROI and typical starting salaries pushing $60,000. The rich returns go hand in hand with the school's pioneering focus on sustainable development. In 2005, OIT became the first school in North America to offer a bachelor's degree in renewable energy. The university also lives what it teaches, using geothermal water to provide the school's heating and solar panels to generate more than a third of its electricity. U.S. News and World Report put it on their top 10 list for American colleges in the west.  
8. Texas A&M
Median annual ROI (in-state): 11.4%  
Median early career salary: $54,600
Texas A&M plays an outsize roll in American public education. Like the state itself, everything about the place is super-sized. The 5,200-acre main campus is one of the largest in America. The school's endowment tops $11 billion. True to the state's history, many of the school's alumni report six-figure incomes chasing black gold as petroleum engineers. To get them there, the school provides more than $500 million in financial aid which goes to help more than 7 out of 10 students. The university also hosts the George H.W. Bush presidential library. 
9. University of Maryland
Median annual ROI (in-state): 10.5%
Median early career salary: $53,300
There's no better place to study in the Old Line State than at the University of Maryland's College Park campus. The flagship school of the state's pubic university system offers its in-state students a healthy 10.5% return on investment and typical starting salaries of $53,300 after graduation. Unlike many of the schools on this list, Maryland also stands out for its commitment to diversity. Only about 55% of students at the university are white, with Asian, black and Latinos constituting significant minorities. For in-state students, tuition costs come in at under $10,000, less than the room and board it takes to live there.