22 Photos of the World Coming to Nepal's Aid Will Restore Your Faith in Humanity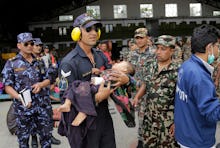 On Saturday, Nepal was devastated by a 7.9-magnitude earthquake and the death toll continues to rise past 4,000 as many remote villages have been completely inaccessible. But in a sign of hope, the international community has corralled around the catastrophe-stricken country, offering any kind of support it can.
Numerous countries from around the world have stepped up their efforts and financial assistance in order to provide much-needed emergency relief in the vein of things such as water, medical equipment, aircraft, temporary shelter and blankets.
At least 40% of Nepalis live in poverty, and the Nepali Army has but one large helicopter, meaning international recovery assistance is absolutely vital to the country.
India
Just four hours after the earthquake, India sent over its National Disaster Response Force, "along with three army field hospitals and civilian doctors," reports Quartz. The team has been working tirelessly since then. On Monday, survivors were evacuated in an Indian Air Force helicopter from Trishuli Bazar to Kathmandu.
The Indian Air Force evacuated this mother and her injured child to Kathmandu from remote areas and they await medical assistance for the small girl. 
Turkey
Turkish Prime Ministry Disaster and Emergency Management Presidency (AFAD) are part of disaster relief efforts in Kathmandu. Removing rubble and searching for survivors is just one of the ways Turkey has been supporting Nepalis on the ground.
The Turkish IHH Humanitarian Relief Foundation is offering emergency medical assistance to victims of the earthquake. 
Japan
Japan has also dispatched its own emergency relief team to head to Kathmandu.
South Korea
They have offered not just grassroots assistance, but ample amounts of aid, too, including much-needed drinking water, the absence of which could escalate into a crisis.
Pakistan
Even Pakistan, a country battling its own poverty and still recovering from its devastating 2010 floods, sent over aid and assistance.
Sri Lanka
The island nation has shown South Asian neighborly support, sending doctors and aid.
Bhutan
Bhutanese King Jigme Khesar Namgyel Wangchuck has sent a 63-person emergency relief team.
United Kingdom
The U.K.'s Department for International Development is sending 5 million pounds (approximately $7.6 million) to help with recovery.
Israel
The military has sent 80 people as part of a search-and-rescue team, with the intention of sending another aircraft on Monday, according to The Guardian.
NGOs are also involved in the recovery efforts. Oxfam is sending enough water and hygiene equipment for thousands of Nepalis.
A crowdfunding Indiegogo campaign was set up by Entrepreneurs for Nepal and exceeded its target of $20,000 in one day. Fashion designer Prabal Gurung is also crowdfunding his relief fund, which has a target of $250,000. He has raised over $200,000 so far.
And, in a different kind of support, 100,000 monks prayed for the victims of this terrible disaster.
While the unfolding catastrophe is devastating, there is a silver lining to be found in the way the world has rallied around this tiny nation in its time of need. At a time when so many countries are plagued with violence and regional conflicts, the response to this earthquake has been a display of unity. Nepal's earthquake has proved this kind of humanity is still a possibility, and, with any luck, over time this is what will prevail over the senseless violence.