Demi Lovato Dedicated This Powerful Song to Bruce Jenner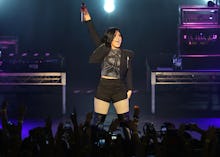 When Bruce Jenner revealed on April 24 that he* is transgender, the music world took notice. The former Olympian and reality TV star went in front of the camera on ABC's 20/20 to announce that he is a transgender woman, and he urged Americans to be sensitive. 
"Have an open mind and an open heart," Jenner said on the show. "I'm not this bad person. I'm just doing what I have to do."
Despite a handful of negative reactions, musicians largely came out in support of Jenner, with artists like Lady Gaga, Miley Cyrus and Sam Smith showing their support on Twitter. And on April 26, pop singer Demi Lovato dedicated her powerful song "Warrior" to Jenner during a show in New Zealand:
"I want to dedicate it to someone who became an even bigger hero last night — Bruce Jenner!" Lovato said. "He was honest and he was open with his story. No matter if you agree with it or not, he probably saved so many lives and educated so many people [about] transitioning into being a woman and being transgender." 
The song is perfect for Jenner. It's a testament to the strength it takes to live with a secret and decide to show the world who you are. "This is a story that I've never told / I gotta get this off my chest to let it go," she sings. "I'm a warrior / And you can never hurt me again."
*Jenner has requested the use male pronouns and the name he was assigned at birth until a date to be determined. 
h/t Billboard