Lena Dunham on Why Being a Feminist Is Not Always About Being Perfect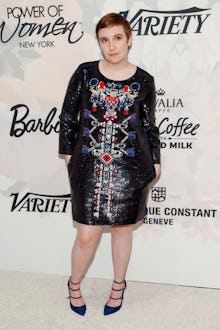 Lena Dunham knows she's not a "perfect feminist." She's used words like, "hey hooker," and "'sup, slut" to greet friends. She said she felt subversive lip-syncing along to Jay Z's "Big Pimpin'." But the 28-year-old creator and star of Girls says she's learned a lot about the power of language, and, recalling her own rape, how language is the key to taking back the power after being sexual assault. 
Dunham was honored for her work with GEMS, a New York-based organization that empowers young women who are survivors of sexual assault and sex trafficking, during Variety's 2015 Power of Women NY event on Friday. 
In her acceptance speech, Dunham said using such demeaning language felt "naughty and powerful," but she eventually realized that singing along to songs like Three 6 Mafia's "It's Hard Out Here for a Pimp" wasn't helping her "reclaim [her] feminine power," because these words objectify and put down other women. In fact, she said, these messages are so pervasive, even the most declarative of feminists use them. 
Through her work with GEMS, she began to understand the power of language and how it is used to exploit young women. This knowledge was also compounded by her own experience being raped.
With this new knowledge, coupled with her unfortunate experience, Dunham — with ann explicit nod to her own privilege — is using her platform to raise awareness about the trafficking of women, their exploitation and disenfranchisement. 
Dunham is an artist whose activism comes through the wielding of language. If this speech is any indication, she is using it masterfully, raising awareness and creating discussion about significant issues related to women. 
Watch Dunham's speech in full below: