Mariah Carey Is Back With a Brand New Single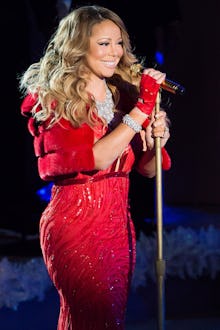 Mariah Carey is back and she's stronger than ever. The pop legend released a brand new single on Sunday called "Infinity." It's an empowering break-up anthem with a distinctive laid-back, '90s R&B flair and features all the celebratory vocal lifts that made Carey's such an impressive voice when we were growing up.
In the song's rapped verses, Carey mocks the man who tried to break her heart (possibly Nick Cannon?): "Boy you actin' so corny like Fritos / If life was a game you're a free throw." The lines add some fun cheesiness to an otherwise elegant pop ballad.
The lyric video, with its ultra-literal CGI interpretations of the lyrics, turns that cheese up even more. But when Carey hits the supersonic climax at the end, it's easy to hear that the Rainbow queen can still kill it.
The single is intended to celebrate Carey's upcoming residency in Las Vegas, which kicks off on May 6. She described the concert in an appearance on The Ellen DeGeneres Show as the "soundtrack to her life," in which she plans to sing all 18 of her No. 1 hits. She'll also be releasing those number ones on a greatest hits album called No. 1 to Infinity, due out May 18.
"Infinity" will obviously be included, although it hasn't soared to number one. It's still a solid '90s throwback and a welcome addition to the diva's impressive catalog.
h/t Rap-Up