Hallmark's New Mother's Day Ad Puts the Spotlight on Trans Children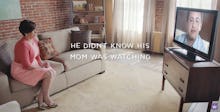 Over the last century, the folks at Hallmark have really learned how to tug on those heartstrings. Continuing its LGBT-inclusive "Put Your Heart to Paper" campaign for Mother's Day, Hallmark has released a new video featuring a trans man talking about his mother.
The company has featured LGBT families and couples in the past, including a lesbian couple whose video for its Valentine's Day campaign went viral earlier this year. 
In this new video, Alex, a trans man, speaks from the heart about his love for his mother, Pam, who embraced him and his gender identity without hesitation. For Alex, who doesn't know his mother is listening to his interview, his mother's hugs speak volumes. 
"Even though I was born a girl," Alex said, "I've always felt like I was a boy." And while there is no universal trans experience, the fear of losing someone because of one's gender or sexuality is an inherent part of the coming out process.
But Pam's love for Alex clearly transcends gender — and this is a sign of a real mother. For Alex, it's what makes his mom the best one in the world, because through her love he's learned how to love himself and others.
When Pam is called into the room to Alex's surprise, she says, "I'm your mama bear and you're my cat, always." Well, folks, grab your tissues.
Watch the ad in full below: