Hours After the Baltimore Protest, The Community Is Coming Together to Clean Up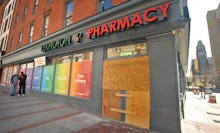 For up-to-date information about the escalating situation in Baltimore, see Mic's coverage here. 
In the hours following the protests over Freddie Gray in Baltimore, this is the photo the media showed you: 
Conservative websites like Breitbart spoke of a "war zone," while the Baltimore Sun and many others put up dramatic images of people smashing car windows to play up the damage done in the city as a result of the riots.
But one day after the protests "turned violent," this is the photo the media never showed you:
This is 59-year-old Wayne Snipes, who the Sun reported was clearing the area in preparation for the arrival of Sunday church services. He is one of many members of the Baltimore community who have come together to repair the physical damage left behind by a small group of protesters who smashed windows and damaged property on Saturday night. For all the breathless outrage spawning from right-wing sites, the story of a city uniting under difficult circumstances has been largely ignored. 
Snipes is not alone. At the corners of Howard and Baltimore Streets, the Sun reported that a pair of Morgan State University students are helping to patch up windows that were smashed at a 7-Eleven on Saturday night.
"There has really been an outpouring from community members that felt bad for our franchisees," 7-Eleven corporate spokeswoman Margaret Chabris told the paper. "Two students ... from Morgan State University came [to the Howard Street store] with a mop, bucket, spray cleaners. They were on a mission to help."
CBS Baltimore further reported that local business owners are pitching in to help neighboring businesses repair the damage.
"One thing I know about when you are in business, when you are closed, time counts. I'm self-employed. I'm a hair stylist," local resident Dominique Johnson told the news affiliate. "We have to stand up for those who are upset. When people are grieving, they say things they don't mean. You have to stand in the gap for them and sometimes that means cleaning up their mess."
Local resident Toya Baker also told CBS, "Destroying the city is not going to do anything. It's not going to help anything; it's going to make everything worse."
You wouldn't know it from the mainstream media. As Mic previously reported, the majority of people who showed up to protest in Baltimore did not engage in violence, despite what the media made the situation out to be.
On Twitter, activists and others weighed in to express how they feel about the prevailing media narrative of the incident:
Time to change the narrative. According to the Washington Post, 35 people had been arrested during the protest "on charges that included failure to disperse, rioting, assaulting police, burglary, theft and destruction of property." Two journalists who police said had been "inadvertently detained" were set free without being brought up on charges. The Baltimore City Paper reported that its photo editor, J.M. Giordano, had been "tackled and beaten" outside the Western District station, while Reuters photographer Sait Serkan Gurbuz was among the journalists arrested by the Baltimore police.
After reports that baseball fans were briefly held inside Oriole Park at Camden Yards during a Baltimore Orioles-Boston Red Sox game in the ninth inning due to "ongoing public safety issues" garnered attention online, Orioles COO John Angelos took to Twitter to respond.
While he cautioned that "the principle of peaceful, non-violent protest and the observance of rule of law is of utmost importance any society," Angelos told his fellow citizens:
"My greater source of personal concern, outrage and sympathy beyond this particular case is focused neither upon one night's property damage nor upon the acts ... there is a far bigger picture for poor Americans in Baltimore and everywhere who don't have jobs and are losing economic civil and legal rights, and this makes inconvenience at a ballgame irrelevant in light of the needless suffering government is inflicting upon ordinary Americans."
As Freddie Gray was laid to rest on Monday in Baltimore at a wake that drew thousands, Angelos' words ring loud and should drive the media to go deeper than the sensational narrative we're so accustomed to hearing.
Updated: April 27, 2015, 3:35 p.m.