Drone Footage Shows the Havoc Unleashed by Nepal's Devastating Earthquake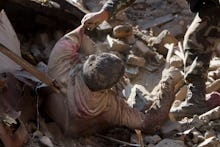 On Saturday, a 7.8-magnitude earthquake hit Nepal, leaving at least 4,000 people dead and more than 6,500 injured. Parts of the Himalayan city of Kathmandu are in near ruin: The quake leveled buildings and brought an avalanche down on a Mount Everest base camp, possibly claiming the lives of at least 18 climbers, including five foreign nationals and a Google engineer. 
New drone footage shows people gathering in large, frightened throngs throughout the city, rushing out of buildings and consolidating in the wide-open streets, dodging the crumbled debris of the buildings that used to stand there.
According to the Wall Street Journal, the earthquake occurred when rock about nine miles below the earth's surface created a shockwave with the power of 20 thermonuclear weapons. The rock plate shifted about 65 feet, enough to cause widespread chaos, lifting up roads and homes. 
Associated Press footage shows the destruction clearly:
Search parties are still active, as rescue missions have already reported jumps in fatalities by the hundreds throughout the day.
The full videos are below.
h/t Associated Press