Heroic Teacher Risked His Life to Prevent Another Mass School Shooting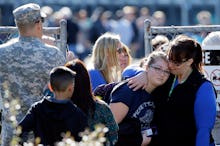 A high school teacher is being called a hero after the brave actions he took to stop a gunman at North Thurston High School in Lacey, Washington, on Monday morning. Shots were first reported by students on Twitter around 10:30 a.m. At least two shots were heard in the school.
Brady Olson, who teaches AP government, likely prevented a tragedy when he tackled the student who opened fire in the school's usually packed commons areas. No injuries were reported.
"He is a very brave man who probably saved a lot of people today," district representative Courtney Schrieve told Q13Fox.
A receptionist at the North Thurston district office told Mic the school was now on lockdown, and students would be released after it was lifted. The shooter has been apprehended, the Seattle Times reported.
Alexis Rinas, an 18-year-old senior at North Thurston, told Mic the shooting had taken place at the school's "commons," where the cafeteria is located. Rinas added the area was usually buzzing with "hundreds" of students, but the shots did not appear to be fired at them. Praise for Olson's actions online began almost immediately after the news broke. 
Olson also released an official statement on the incident:
The heroic action will likely add to Olson's already soaring popularity among students, who gave him top marks on the popular website RateMyTeachers.com. The most recent review calls Olson the "best teacher I have had." Another called him "an unbelievably cool guy." 
Due to the lockdown, Olson and other school officials were not immediately available for comment.
Updated: April 27, 2015 3:52 p.m.