13 Lyrics That Prove Nicki Minaj Is One of the Greatest Rappers of All Time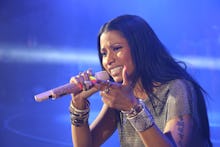 Nicki Minaj is one of the best rappers in the mainstream, but she's still thought of as more of a pop star than anything else. When she signed to Young Money Entertainment in 2009, she lent her rhymes to verses by other rappers like Lil Wayne and Gucci Mane and held her own. Minaj released a handful of solid hip-hop mixtapes early in her career, but with her 2010 debut album, Pink Friday, and the 2012 release of "Starships," the Top 40 edged Minaj out of the hip-hop spotlight.
But it's important to remember just how talented she is as a rapper, and not to box her in as a pop star. As Atlanta's DJ Holiday told MTV in 2009, "She's gonna have a good, successful career. It's hard to find that somebody who has that niche, that star power. She can rap, she can sing. She's connected with everybody in the streets." 
That connection keeps bringing hip-hop Minaj back, even when it looks like her alter-ego Roman Zolanski has gone for good. Here are 13 defining verses that prove Nicki is one of the best rappers alive.
"They don't make us to break us, no I'm with the bakers / I'm gettin' bread with dread up in Jamaica / It's them young stunnas, Nick and Lil Weezy / Nick, I'm the chick that 'Go Getta' like Jeezy / Fall back, cause I do this here / Step ya bars up or you're through this year"
Minaj likes to rap about bread, as in money, but she often throws in a reference to actual bread, too. In Usher's "Little Freak," Minaj rhymes, "I'm hotter than a hundred degrees / A lotta bread no sesame seeds." She's an able wordsmith, and she often uses double meanings to pull off killer puns.
"I said, excuse me you're a hell of a guy / I mean my, my, my, my you're like pelican fly / I mean, you're so shy and I'm loving your tie / You're like slicker than the guy with the thing on his eye"
This verse features a really solid reference to Slick Rick, the British rapper who sports an eyepatch. It also probably explains why Minaj spits this verse in a Cockney accent. 
3. "Get Like Me" — Nelly ft. Nicki Minaj and Pharrell
"You should follow my example — bitch, i.e. / Cuz I'm front row, Isaac Mizrahi / In the truck but I ain't suck diznayee / All these hoes wanna get like me / Get their own speakers and some prose like me / When I'm at the game, all the pros like me / Bitch I'm a pro, ain't a ho like me"
Minaj probably meant "e.g." ("for example") instead of "i.e." ("that is"), but sometimes flow just trumps grammar. 
4. "Click Clack" — Playtime Is Over 
"They call me Nicholas, style defined as ridiculous / I beg your pardon, meet me at the Garden / Number one draft, I'm New York's pick / And I don't lose like them dudes on the New York Knicks"
Minaj uses sports references all the time in her rhymes, from Shaq to Dwayne Wade. The rapper even guest-hosted SportsCenter once, and told her fellow comentators, "I used to like Allen Iverson. Can he come back?" 
5. "Sweet Dreams" — Lil Wayne ft. Nicki Minaj and Beyonce
"Who's next to go / My flows so flexible / Get gas, then get at me, Texaco / Shoot yourself in the leg, Plaxico / White jag with the twisted lip / I ain't Mike Jack but This is it"
In another verse about New York sports, Minaj raps "Plaxico" as in Plaxico Burress, the Giants receiver who accidentally shot himself in the leg. This verse also features a pretty solid shout-out to the Michael Jackson documentary, This Is It.  
6. "Come on a Cone" — Pink Friday: Roman Reloaded
"Do a show for Versace, they request me by name / And if they don't get Nicki, it just won't be the same / When I'm sitting with Anna, I'm really sitting with Anna / Ain't a metaphor punchline, I'm really sitting with Anna"
Nicki really likes Vogue editor Anna Wintour. She also likes to set up punchlines in her rhymes, like on "Only" when she raps, "My man full, he just ate, I don't duck nobody, but tape / Yeah, that was a setup for a punchline on duct tape." Indeed, it was.
7. "I Get Crazy" — Beam Me Up Scotty
"I just came out of the motherf*ckin' old school / Got my Mac Notebook with the Pro Tools / Yeah, bitches ain't ready for Nicki Lewinsky / Bad 'Woof Woof' flyer than a Frisbee"
Minaj compares herself to Monica Lewinsky in 12 different songs because, like Lewinsky, Minaj is close to the President. Of course, Nicki isn't referring to Bill Clinton; she's referencing her ties to Mack Maine, who is the president of Young Money and Lil Wayne's old friend.
"Flyer than a kite, I get higher than Rapunzel / Keep the Snow White, I could buy it by the bundle / Step your cookies up 'fore they crumble / Don't be actin' like the Cardinals and go and fumble"
Snow White is a strain of marijuana, and also happens to go well with the princess theme Minaj owns. 
"Def Jam said I'm no Lauryn Hill / Can't rap and sing on the same CD / The public won't get it, they got ADD / See Nicki, follow the rules / Go and say your prayers and get ready for school"
Hill was one of the first hip-hop artists to incorporate both singing and rapping, on her album, The Miseducation of Lauryn Hill. "I don't know if people are gonna like this album, because I'm just singing, and nobody wants to hear rappers sing," Hill told her backup singer, according to NPR. Miseducation became one of the best albums of all time, and Minaj went on to follow in Hill's cross-genre footsteps with a few classics of her own.
10. "Ponytail" — Barbie World
"He say, 'Nicki you da best hands down!' / Flyer than a airlift / Pull it with no hair clips / Ponytail, no Scrunchie / Parachute, no bungee / Peggy and Al Bundy / Ballin' like Van Gundy / Alligator heels on / Crocodile Dundee"  
Minaj is the best because her ponytail doesn't even need a Scrunchie. And in a spot-on example of free association, she manages to reference both Peggy and Al Bundy from Married... With Children and Jeff Van Gundy, former head coach of the Knicks. 
11. "Here I Am" — Pink Friday
"I swear to God, man, everything in life is old / And the only thing that change is the price of gold / Even in the afterlife I'mma fight your soul / 'Cause the second time around I'll be twice as bold"
This song was originally called "Letter To the Media," so there's no doubt about who Minaj is talking to. "I'm ready," she wrote on her Facebook page when she premiered the song. "I'm proud of what I've done and I'm proud of what I'm working on," she told Complex. "I've accomplished something and I'm not going to be ashamed to be happy about what I've done."
12. "Monster" — Kanye West ft. Nicki Minaj, Jay Z, Bon Iver and Rick Ross
"Pull up in the monster / Automobile gangster / With a bad bitch that came from Sri Lanka / Yeah I'm in that Tonka, color of Willy Wonka / You could be the king but watch the queen conquer / OK first things first I'll eat your brains / Then I'mma start rocking gold teeth and fangs / 'Cause that's what a motherfucking monster do"
This is arguably the best Minaj has ever rhymed, and Kanye agrees. "I knew people would say that was the best verse on the best hip-hop album of all time," Kanye told Sway on Sirius XM in 2013. 
13. "HOV Lane" — Pink Friday: Roman Reloaded
"I travel more than you walkin with a basketball / I'm out in Spain, runnin game to the matador / I'm in my own lane, you ain't in my category / You like a Rav 4, I'm like the Aventador"
"HOV" doesn't stand for High Occupancy Vehicle; Minaj is in the Jay Z (Hova) lane, up there with the greats. Sticking to the driving theme, other female rappers are like Toyota compact cars and Minaj is like a Lambo.