Meet the 2-Year-Old at the Heart of the Supreme Court's Marriage Equality Arguments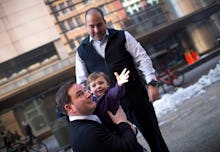 Cooper Talmas-Vitale has a mop of flyaway hair, rosy cheeks and a fondness for giving "hi-dis" — his word for high-fives — to everyone he encounters. A giggly, charming toddler, he's prone to babbling and is captivated by anything with a touchscreen (he's particularly taken with the waveform on the Voice Memos app on iPhones). He also has two dads.
This last biographical fact is the reason Cooper is better known to the U.S. Supreme Court as "Adopted Child Doe," the youngest of 31 plaintiffs who will take their case to the Supreme Court on Tuesday in Obergefell v. Hodges. The matter at hand: whether the 14th Amendment extends the right to marry to same-sex couples, and whether a state can be compelled to recognize such a union legally performed in another state. If the plaintiffs are successful, their victory will represent one of the greatest civil rights triumphs of the past half-century — that is, the legalization and recognition of same-sex marriages from coast to coast.
For 2-year-old Cooper, the ramifications of such a decision will be much more personal. Although Cooper's adoption was finalized in New York, where his fathers' marriage is fully recognized, his birth state of Ohio refuses to issue a birth certificate naming them both as his parents. Without a birth certificate, Cooper can't get a Social Security number, a passport of his own or a guarantee that both of his dads will have access to him in case of an emergency. These legal obstacles, the family's lawyers argue, are a fundamental violation of the U.S. Constitution.
For Cooper and his dads, it's as simple as a matter of fairness.
Just a typical family: Anyone who knows parents of a toddler would find Rob Talmas and Joe Vitale's apartment in the Kips Bay neighborhood of Manhattan to be surprisingly tidy. Throw in planning for an impending trip to Washington, D.C., a looming Supreme Court hearing and a private tour of the White House, and the trio's neatness is even more impressive.
All three were sporting complementary powder-blue shirts and sweaters. "I could tell you the story about those awful shoes Rob bought for Cooper, but I'll let that slide," joked Vitale, as his husband eyed him in mock wariness. Talmas, an executive at a cable company, and Vitale, an executive at an insurance company, have been a couple since 1997, and the intimacy of their relationship is obvious. Talmas, the more restrained of the two, will occasionally throw a cautionary side-glance at Vitale, whose plainspoken sense of humor sometimes lands him in hot water. "Usually they try to keep me farther away from the cameras," Vitale laughed.
The two originally met through Talmas' roommate, and first bonded by commiserating about the death of Diana, Princess of Wales, during a group vacation to Provincetown, Massachusetts. While their friends were out partying, Talmas and Vitale went to a bar to watch cable news coverage of the late princess. "You can't make any date sound gayer than that," said Talmas.
After more than a decade together, they finally tied the knot in September 2011 at City Hall in New York. "What was our 14th anniversary as a couple became our wedding day," said Vitale.
Both Talmas and Vitale come from big families, and they knew they wanted one of their own as soon as possible. It took the newlyweds a year to finish the paperwork, and another for them to get matched with a birth mother. The couple originally wanted to limit the search for a baby to New York state for legal reasons (New York had legalized same-sex marriage by this point, meaning that the chances of legal complications were slim), but worried that matching with a biological mother was hard enough without setting up barriers at state borders. 
"There was so much competition from 'traditional' couples, we weren't sure there was going to be room for us," Talmas said.
Then a miracle happened. In April 2013, a birth mother in Cincinnati in her final week of pregnancy reached out to Talmas and Vitale as a potential match. It was the perfect scenario: The mother had undergone full prenatal care for her entire pregnancy and was willing to hand over every necessary document and a full family history. "We really hit the adoption jackpot," said Vitale. The couple had five days to get to Ohio.
After a 10-hour drive from New York City to Cincinnati, Talmas and Vitale met the birth mother, who, to their surprise, invited Vitale to join her during the delivery. Although Cooper was born at a Catholic hospital, the new fathers weren't treated differently than any other patient. Talmas and Vitale were given a room across the hall from the birth mother for three days, along with a "father" pass so they could have unlimited access to Cooper.
It wasn't until Cooper's adoption was finalized in January 2014 that they knew anything was wrong. "The Circuit Court of New York certified that we were Cooper's parents, and it listed both of us" on the adoption paperwork, said Vitale. But even though the adoption was finalized in New York, Ohio was still in control of Cooper's birth certificate — on which it refused to list both men as parents. "We were completely blindsided," Talmas said.
That's when attorneys for Jim Obergefell, a gay man whose legal marriage went unrecognized by the state of Ohio after his ailing husband's death, reached out to Talmas and Vitale and invited them to join Obergefell's case. At first, Talmas and Vitale were unsure whether they wanted to expose themselves — and Cooper — to the kind of public scrutiny to which plaintiffs in a landmark case are invariably subjected. "Our goal was just to go to Ohio, get our names on his birth certificate and go home," said Vitale. 
In the end, they decided to join the litigation for Cooper's sake. "We want Cooper to know his story from Day One," said Talmas. They met Susan Sommer, director of constitutional litigation at Lambda Legal and one of the chief lawyers on their case, on the flight to their first hearing in Cincinnati. "We shared a cab ride to the hotel and we became instant friends," said Vitale. Sommer, who cited her own children as a primary motivation behind her work with Lambda in an interview with Mic, was immediately taken with Cooper. "Our entire legal team has personalized this," said Vitale. "They have photos of the kids hanging in their office. You think you're just a vehicle for the lawsuit, but when you go into the office, obviously everyone loves Cooper."
The issue of Cooper's birth certificate is about more than just pride. Because Ohio doesn't recognize Talmas and Vitale's marriage and won't list both men on his birth certificate, "if Cooper had an accident or one of us got hurt, it's complicated," said Talmas. "It's not easy to travel with Cooper: Because he doesn't have a birth certificate, we don't have a passport [for him] because we don't have a birth certificate, we don't have a Social Security number. We can't do anything that normal parents do because he doesn't have all of his documents."
There are more than a dozen states across the country where these kinds of legal loopholes leave LGBT families in jeopardy. According to Sommer, the Talmas-Vitale family's case demonstrates a major flaw in the argument that the issue of same-sex marriage should be left up to the states. "What their case really shows is how when a state like Ohio discriminates against same-sex couples, that discrimination washes across the country," Sommer told Mic. "It's not just a problem for Ohio and gay and lesbian people in Ohio and their children — it's a problem right here in New York."
"We can't do anything that normal parents do because he doesn't have all of his documents." 
To Sommer and the rest of Lambda Legal's team, the issue of Cooper's birth certificate is clear-cut. "They had an official decree: an adoption decree from a New York court, which Ohio's Department of Health refused to honor," Sommer said. "Whether they were married or not, because they had adopted a child, that should have been enough" to get both Talmas and Vitale's names on the birth certificate.
Two years later, the young family is almost at the finish line. On Tuesday, the couple hopes to join its legal team at the Supreme Court for the oral arguments, although there's no guarantee there will be room for them. "At best, we'll be in the back of the courtroom, or in an overflow room," said Vitale. Regardless of whether his dads can finagle a seat, Cooper won't be allowed to witness his small role in constitutional history; anyone under the age of 18 isn't allowed inside the Supreme Court during arguments.
This matters less to Talmas and Vitale than Cooper growing up in a country where having two dads doesn't prevent him from enjoying the same rights as any other kid. "We don't have equal rights in all 50 states. We might be pretty close to having that, but we never want Cooper to feel that way," said Vitale. "People think it's about us — it really isn't. We want a birth certificate that lists who Cooper's parents are. That's it."
"We don't want Cooper to have to explain his origins in a way that he's not comfortable with," said Talmas. "He should just have a normal life. As a citizen of the United States, he should have the same rights as any citizen. Never mind us as a married couple, or whatever the court decides marriage means."
Despite all the difficulties the family has faced because of Ohio's government, they still have an affinity for the Buckeye State. "Most people think we couldn't give a rat's A-S-S about Ohio," said Vitale, catching himself while Cooper played at his feet. "That's not true. Our son is from Ohio, he was born in Ohio, we have friends in Ohio." In the days before Cooper's birth, the couple had even made stops at some Cincinnati institutions, like LaRosa's Pizza, Skyline Chili and Penn Station East Coast Subs, for his future scrapbook. "We wanna bring him back!" Vitale said. "The politicians aside, we've never seen any discrimination in Ohio. The people are really, really nice. Even these poor clerks, who say, 'I want to be able to put your names on the birth certificate, I would love to do it if it didn't mean losing my job.'"
"People think it's about us — it really isn't. We want a birth certificate that lists who Cooper's parents are. That's it."
In the meantime, the case has given them more than a few memories to look back on when Cooper has grown. "I have 5,000 photos of my son," laughed Vitale, referring to the news coverage around the case. "It's the dream of any parent."
Cooper may not have a full grasp of his place in history, but his dads are looking forward to the day when they get to tell him how his story helped expand the rights of millions of LGBT Americans. "The fact that our son gets to be in the White House with Edie Windsor," said Vitale, citing the plaintiff in the landmark Supreme Court case Windsor v. United States, "is just gonna blow his mind."