'Live From New York' Doc. Proves Why 'SNL' Is America's Greatest Television Institution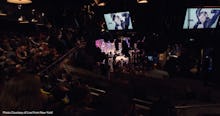 Few American television shows could rightfully be called cultural touchstones. Law and Order created and popularized the modern legal procedural for two decades. The Tonight Show has taken on different forms with its various hosts over 60 years, but remains a late night staple today. Sesame Street defines children's programming (and adult's parodies) even after 44 years.
While these shows are all standouts and accomplishments are stellar, it's incredibly hard for another show to reach that golden echelon. That's what makes something like Saturday Night Live so special: Regardless of its quality level over 40 seasons, it has remained an American institution.
Live from New York!, the new documentary from director Bao Nguyen, seeks to formalized that title. The film treats SNL like a monolith, with all the respect and honor that entails.
Nguyen's documentary tells the abbreviated tale of Saturday Night Live from beginning to end. Much of the film's 90-minute running time is spent on its first decade, both with the iconic first cast (1975-1980) led by producer Lorne Michaels and the listless Michaels-less next few years (1980-1985). While Nguyen spent time with the contemporary cast, he spoke at great length to the longtime crew members — production designers, costumers, etc. — to get their take on the show's legacy.
Other boldfaced moments in the series' history get their moment in the sun, like Sinead O'Connor ripping up a picture of Pope John Paul II live on the air. A fair amount of time is spent exploring whether or not SNL was and is sexist, a question different female cast members answer quite differently. (Any sexism is accidental rather than institutional, Tina Fey explains; SNL was absolutely sexist, Julia Louis-Dreyfus insists.) Other bits and pieces focus on building up SNL's credibility as a comedic heavyweight.
But Live from New York! argues the show's greatest influence is in its political humor. From Gerald Ford's clumsiness to George W. Bush's down-home charm to the ditzy Sarah Palin, SNL's political impersonations often form much of a candidate's reputation — for better and for worse.
Live from New York! doesn't quite work as the essential SNL record simply because an hour and a half isn't enough time. There's a bit too much focus on the beginning and the present, with much of the '90s and early 2000s lost in the shuffle. A film like James Franco's Saturday Night is good supplementary material. The 2002 book Live From New York: The Complete, Uncensored History of Saturday Night Live as Told by Its Stars, Writers and Guests, recently updated for the 40th anniversary, is probably the definitive work.
That said, when Live from New York! is set in the present day, from when Nguyen was on set at SNL, it's often at its most compelling. One sequence tracks the backlash to Leslie Jones' slavery-focused stand-up bit; to hear Jones talk about it is simultaneously heartbreaking and empowering.
Ultimately, though, Live from New York!'s importance comes through how clearly it makes the case for SNL as iconic. This is a show that makes an impact. It's more than just parody commercials and sketches forgotten by Sunday — it's historic.
Live from New York! will be released in select theaters June 12.