Watch the Video of Police Laughing at a Bleeding Suspect They Didn't Want You to See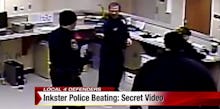 Video has emerged appearing to show Inkster, Michigan, police officers laughing and mocking the victim of a beating they had administered to an unarmed black man.
The video captures officers in the police station as they exchanged fist bumps and laughs while the man they arrested sat a few feet away, bloodied and beaten.
WDIV-TV's Kevin Dietz noted the video shows a group of Inkster Police Department officers pantomiming 57-year-old Detroit resident Floyd Dent, who was "suffering from a closed head injury, broken ribs and a fractured orbital" just feet away after being assaulted by officers during a Jan. 28 traffic stop.
"Quite honestly, they are disgusting," Dent's attorney, Greg Rohl, told Dietz. "They show officers making fun of Floyd. They show them congratulating each other for this beatdown, and the whole time he is there watching it."
One officer can also be seen impersonating how Dent was flailing on the ground during the arrest:
Watch the full video below:
The background: Dent's injuries were the result of a Jan. 28 traffic stop and arrest that was also caught on tape, with footage showing a group of Inkster officers putting Dent in a chokehold and repeatedly hitting him in the head, kicking him and using a stun gun on him. Dent spent two days in the hospital. 
Officer William Melendez "was beating me upside the head," Dent told the Detroit Free Press. "I was trying to protect my face with my right arm. I heard one of them say, 'Tase the motherfucker.'"
After Wayne County Prosecutor Kym Worthy saw the video of the beating, she dropped charges against Dent and instead filed them against Melendez, who hit Dent in the head about 14 times, video shows, according to the Detroit Free Press. Last week, Inkster police Chief Vicki Yost resigned. City Manager Richard Marsh told WDIV-TV that the remaining officers in the video will face another investigation.
Why you should care: The video is a telling display of some of the attitudes of certain police officers in America, and unfortunately it's not all that uncommon. More investigation into this incident is sorely needed, because all too often police departments have little to fear when their members cross the line from law enforcers to swaggering bullies. 
In the Washington Post, former St. Louis Officer Redditt Hudson, who now heads the Ethics Project, wrote, "Even when officers get caught, they know they'll be investigated by their friends, and put on paid leave. My colleagues would laughingly refer to this as a free vacation. It isn't a punishment. And excessive force is almost always deemed acceptable in our courts and among our grand juries."
As Hudson's words and this video shows, the problems of police brutality extends beyond the heat-of-the-moment interactions on the streets. They permeate deep into many pockets of police culture and establish roots that can lead to violence and even, in an alarming amount of cases, death.