Intense Images and Videos Show the Violence Unfolding in Baltimore Right Now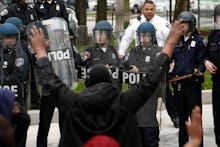 Violence broke out Monday on the streets of Baltimore as protesters clashed with police officers just hours after the memorial service for Freddie Gray, a black man who died of a spinal cord injury on April 19 while in police custody. 
Responding to what they said was a "credible threat" of gang violence directed towards officers, the city of Baltimore called out the police to disperse the protesters, the Baltimore Sun reported.
Video and photographic footage show that the area has devolved into full-scale rioting. Police reports indicate that at least seven officers have been injured, at least one critical so far in the clashes. 
The most violent clashes took place in the area around the Mondawmin Mall, in the northwest part of the city. Police spokesman Eric Kowalczyk told the Baltimore Sun that seven police officers had been injured with one currently unresponsive. Others, he said, had suffered broken bones. A police car was also reportedly set ablaze.
Additional footage uploaded to Facebook shows police being pelted by rocks, and in some cases returning the volleys back at protestors. 
In response to the growing conflict, Maryland gov. Larry Hogan made an official announcement condemning the rioters and putting the National Guard on alert:
Updated: April 27, 2015 7:05 p.m.