11 Stunning Images Highlight the Double Standard of Reactions to Riots Like Baltimore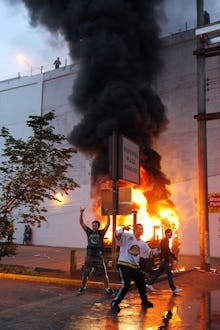 The city of Baltimore has been besieged by riots Monday night — and police are on the scene ready to serve, protect and subdue.
This has become an evergreen narrative in the aftermath of reactions to state-sanctioned violence against black people. But that it persists sends a troubling message about how officials and, by extension, many of the people they serve regard rioting: specifically, when there's white people involved versus mostly black people.  
Usually, if a riot involves black people, it's connected to intense episodes of where systemic racism is undoubtedly at work. These episodes include the 1992 Los Angeles riots after the Rodney King beating verdict, the riots in Oakland after the 2009 BART Police shooting of Oscar Grant, and the national outcry immediately following the 1968 assassination of Martin Luther King Jr. That outcry included the city of Baltimore, where blacks now represent roughly 2 out of 3 residents.
But when a mob of mostly white people take to the streets, vandalizing cars, storefronts and street signs in the process it usually means someone either won or lost a game.
As Mic's Zak Cheney-Rice noted in January, these rioters are usually called "revelers," "celebrants" and "fans." They're not even called "rioters" in many cases. They're not derided as "criminals," "thugs," "pigs" or even "violent." Those descriptors, as events in Baltimore Monday night reveals yet again, are only reserved for black people. They're the ones who need to be quelled by militarized police forces. They're the ones who need to be off the streets, immediately. They're diminishing the validity of their cause. Yet somehow, reckless behavior over a sports team, not a systemic matter of life and death, is viewed as a costly nuisance. 
One can only wonder, with the current state of affairs — if the same tropes and police treatment deployed against black people were used when white people take to the streets, how would the general public have treated any of these following situations? 
2014: San Francisco Giants win the World Series
One report from Reuters called it "fans taking to the streets." The San Francisco Chronicle's headline noted "40 arrests, two shootings in Giants fan revelry." Couches burned, buildings were hit with graffiti and businesses were vandalized. But neither story characterized the incident as a "riot."
2011: Vancouver Canucks lose in the Stanley Cup finals
As ESPN noted, nearly 100 people were arrested and almost 150 injured in a riot that included the burning of 15 cars and vandalism of approximately 50 businesses. "Total damages are expected to run well into the millions of dollars," ESPN reported. 
2015: Ohio State University wins the NCAA football championship
Fans set nearly 90 fires, tore down an Ohio Stadium goal post, according to the Associated Press.
1999: Denver Broncos win the Super Bowl
Property damage stemming from this riot was estimated at $160,000 according to the Associated Press. But it still wasn't called a riot. Instead, a spokesman for the city's mayor called participants "hell-bent on causing trouble."
1993: Montreal Canadiens win the Stanley Cup finals
According to ESPN, this riot caused "$2.5 million in damages as 168 people were arrested and 115 injured."
2011: Penn State coach Joe Paterno fired amid child sexual abuse scandal
Although some news outlets described the situation as a "riot," other stories, including a report from the New York Times, characterized the situation as an "unruly protest" and a "clash with police." The event itself took a roughly $190,000 toll, according to the Patriot-News, and even included Penn State students and fans tipping over a news van — all in the name of a now-deceased coach who some allege knowingly ignored his colleague's track record of sex abuse allegations. 
1984: Detroit Tigers win the World Series
As the Baltimore Sun noted, eight rapes were reported, one person died and 80 were injured after the Detroit Tigers won their first World Series in more than a decade.
1992: Chicago Bulls win the NBA championship
According to ESPN, more than 1,000 people were arrested, nearly 100 police officers injured and an estimated $10 million in damages was committed.
2004: Boston Red Sox win the American League Championship Series
CNN reported that "some in the crowd vandalized property, set fires and tried to overturn cars. At least eight people were arrested." One woman, journalism student Victoria Snelgrove, died after a police pepper spray projectile fatally struck her in the head.
2014: Keene, N.H. Pumpkin Festival 
As Mic noted in October, "CNN reported that those involved — many of whom were students at nearby Keene State College — yelled expletives at police, started fires, flipped cars and tore down street signs." One participant even told CNN that "revolting from the cops" was a "rush" because "it's a blast doing things you aren't supposed to do."
1999: Michigan State loses to Duke in the NCAA Final Four
As ESPN noted, "Michigan State students have rioted numerous times in East Lansing in recent decades, most notably after NCAA tournament losses in 1999, 2003 and 2005. The worst of these came in '99, when 132 people were arrested and $250,000 in vandalism damage was incurred."
But of course, there are no sweeping character assumptions made about white people in any of the above situations. That same treatment should be extended right now to the people of Baltimore.
Correction: April 29, 2015