Kristen Stewart Is Having an Amazing Life Moment, and She Did It By Being Herself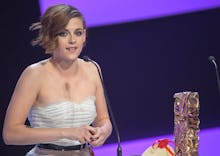 Tim Blake Nelson's new project, Anesthesia, is pretty sleepy. The quiet film injects into its audience a feeling of numbness that matches its name. Creatively, that's an interesting choice (life imitating art), but empathizing with the characters through the haze becomes difficult. It's a balloon of dreariness filled with characters like Sam Waterston's Walter, a philosophy professor with verbose monologues that raise the question, "Does anyone actually talk like this?"
Then Kristen Stewart appears on-screen like a sharp needle, cutting straight through the bleariness. She plays Sophie, a young graduate student of Walter's with the same philosophical pretensions. But she also has a passionate desire to stand apart and know she exists. She's lonely and takes to self-harm to jolt herself out of her reveries.
Sophie could be obnoxious, but Stewart makes her relatable. Yet the young woman who once made a moody, passive Bella Swan in the Twilight films is still quite recognizable. How did Stewart take the same skills that made her a poor franchise star and turn them into her greatest tools as a stellar young actress?
What made Stewart a star was what she had not yet become. In Twilight, she was read as tough-as-nails with a clear femininity, but Stewart hadn't yet grown into herself. Then came scandal: She was discovered to be having an affair with her Snow White and the Huntsman director Rupert Sanders. Unfortunately but predictably, Stewart was held at fault — her boyfriend Robert Pattinson left her and she lost her role in the Huntsman franchise, while Sanders continued on as its director.
At the time, this seemed stunningly unfair. Why should Stewart have to bear the entire punishment for her relationship with Sanders, a married man with a family? But what seemed like Stewart's harshest setback became her greatest chance.
She threw herself into independent film work, earning a César award (basically a French Oscar) for her portrayal of an actress' ambitious assistant in Clouds of Sils Maria. Her work opposite Julianne Moore in last year's Still Alice turned the movie from a Moore-Oscar-vehicle to a beautiful duet between two very different, effective actresses.
Yet in all these roles, Stewart's previous attributes are evident. Her transformation has never involved losing herself. In that way, it's similar to Scarlett Johansson's own career evolution. After near-invisible roles in movies like The Nanny Diaries and He's Just Not That Into You, Johansson took time to study on the Great White Way, winning a Tony for her work in 2010's Cat on a Hot Tin Roof.
When Johansson came back to film in movies like Don Jon, Under the Skin and Her, she brought a new energy to her work. She added variation to her line-readings, a full-bodied performance style and the constant sly suggestion of what lay beneath her good looks. Even her work in the Avengers franchise significantly improved after her debut in Iron Man 2.
Stewart may not have taken the time on Broadway that Johansson did, but her new process is similar. The traces of Bella are still there, but she uses her brooding beauty aesthetic to tell a deeper story. In Anesthesia, it belies a greater darkness that goes beyond just not having friends. It's what makes her so compelling to watch.
In a piece for Grantland, Kevin Lincoln argues Stewart's greatness comes from her ease:
Stewart does not seem like she's trying. Her appearance of comfort in 'Clouds of Sils Maria' might be the most impressive thing about her performance. And it's the same comfort she showed in the Twilight movies and in Snow White and the Huntsman, but cast in a completely different light; it now seems as though those films were merely delaying her arrival as a great actor.
It's an interesting point, and much of what Lincoln says elsewhere in the piece is dead-on. But what makes Stewart as an actress so appealing isn't how little she cares — it's how much. This is a woman who could have lost it all because of personal conflicts. Instead of giving in, she dug her heels and refined her craft. She, in a word, tried. Thank goodness she did; it's hard to imagine movies like Anesthesia and Still Alice without her.