These Tweets Explain Exactly Why the Supreme Court Must Let Love Win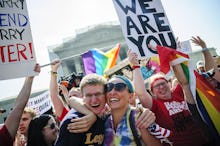 On Tuesday, the Supreme Court heard arguments as to whether or not same-sex marriage is a constitutional right. While to many, codifying equality as a nationwide right seems like an obvious decision, in reality it took years of abuse, ignorance and courageous advocacy for the opportunity for a decision about queer individuals' equal right to marry to be considered on a national level.
While 37 states currently recognize marriage rights for same-sex couples, plaintiffs from several states where this right is prohibited presented arguments before the Supreme Court. Should they successfully convince the justices that the 14th Amendment must apply equal protection under the law to queer individuals as well, the decision will effectively legalize same-sex marriage in the United States. 
Polls show that the majority of Americans support marriage equality. In fact, one need look no further than the hashtags #LoveMustWin, #LoveCantWait and #IDo for evidence of the high hopes many have for this historic day.
The hashtag shows that plenty of politicians are rooting for equality:
As are plenty of entertainers and other public figures:
Even Ben and Jerry's showed their support.
And, of course, plenty of Americans from all walks of life are showing their support too:
While a final decision won't be made until June, it's crucial to show support on this meaningful day — and on an ongoing basis, until equality is ensured for all.