7 Facts Everyone Needs to Know to Understand What's Happening in Baltimore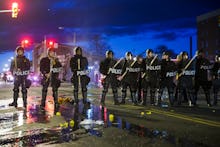 Freddie Gray died on April 19, one week after he was taken into custody by Baltimore police. 
About 30 minutes after he was arrested and thrown into the back of a van, Gray was found, according to officers' accounts, unconscious and unresponsive. His spinal cord had been severely injured and his voice box nearly crushed. 
While the investigation into what or who killed Gray continues, protests and riots swept through Baltimore on Monday. Much like in Ferguson, Missouri, following the police killing of teenager Michael Brown last summer, the prevailing questions seem to center on who is responsible for the violence in the streets — but in order to really understand Gray's final days and their aftermath, one must consider his life and the kind of city in which he grew up — the city that would eventually be the death of him.
1. The city of Baltimore has paid more than $5 million to settle police brutality cases in the last four years.
Since January 2011, Baltimore has settled or lost an average of more than 20 police brutality cases every year, according to the Baltimore Sun. In total, the city paid out $5.7 million and spent $5.8 million more on related legal fees. Mayor Stephanie Rawlings-Blake, a Democrat, more than doubled — to $4.2 million — the city's budget for future judgments, lawsuits and fees at the beginning of the current fiscal year.
2. Victims of police brutality are forced to keep silent about what happened after settling with the city.
There is a clause written into most settlements that prohibits victims from discussing the details of their encounter with police in public, the Baltimore Sun first reported in December 2014. If a plaintiff settles out of court, then tells their story — even on social media — the city will either seek to recoup some of the money it's already paid or halt payments it is scheduled to deliver. These "nondisparagement clauses" are meant to protect the reputation of the police force. They have the effect of silencing the victims and hiding an often brutal truth from the public.
3. In 2007, officers broke an 87-year-old woman's shoulder after her grandson was shot.
In September 2014, the Baltimore Sun published a long report on police brutality and the cost of the settlements. One particularly heinous story came from the family of Venus Green, who in 2007 had her shoulder broken by an officer as she tried to call 911 to get help for her wounded grandson. According to the report, an officer was aggressively questioning Green's grandson as paramedics came on the scene, then threw the 87-year-old to the floor after she refused to let him into a room downstairs where the young man kept two dogs.
From the Baltimore Sun:
"Bitch, you ain't no better than any of the other old black bitches I have locked up," Green recalled the officer saying as he stood over her. "He pulled me up, pushed me in the dining room over the couch, put his knees in my back, twisted my arms and wrist and put handcuffs on my hands and threw me face down on the couch." 
A second officer arrived soon thereafter and immediately took the restraints off Green, but her injuries would persist for years. In 2010, she filed a lawsuit against the police and in 2012, there would be a settlement, the city agreeing to pay $95,000. By then in her 90s, Green died of natural causes a little more than a month later.
4. Police use "rough rides" to punish suspects on the drive back to headquarters.
No one knows — or has said publicly — what exactly caused the injuries that killed Gray a week after his arrest, but one of the most prevalent theories is that he was injured during a "rough ride" between where he was arrested and the precinct where he was supposed to be booked.
"Gray is not the first person to come out of a Baltimore police wagon with serious injuries," the Baltimore Sun found, describing a technique in which officers put a handcuffed suspect in the back of van with no seatbelt, then drive in a reckless way that causes the individual to be tossed around without the ability to brace or prepare for impact.
In one particularly gruesome case, a 43-year-old man was arrested for public urination. According to the Baltimore Sun and his lawsuit, this is what followed:
He was handcuffed and placed in a transport van in good health. He emerged a quadriplegic.
Numerous reports and eyewitness accounts describe Gray as potentially injured but speaking and using his legs as he was bundled into a police van on the day of his arrest. Thirty minutes later, as officers attempted to remove him, he was unresponsive. One week later, Gray was dead.
5. Just 28% of Baltimore city residents are white, but they make up 46% of the police force.
This is a common concern in big and small cities across the country. A Washington Post analysis conducted during the 2014 protests in Ferguson found that black men and women are underrepresented in more than 40% of American municipal police forces. This not only creates more difficult situations in dealing with civilians in minority neighborhoods, but creates more a more deeply insulated departmental culture.
6. Four hundred and fifty-eight people from Gray's neighborhood are in state prison.
Sandtown-Winchester/Harlem Park, where Gray lived his whole life, is the "highest incarceration community" in Baltimore, according to a February report by the Justice Policy Institute and Prison Policy Initiative. Three out of every hundred people are in state correctional facilities. Maryland spends $17 million annually to incarcerate inmates from this small neighborhood alone.
7. Fifty-two percent of working-age residents in Gray's community are unemployed.
Among people aged 16 to 64 years old, nearly half the residents in Sandtown-Winchester/Harlem Park are out of work, according to the same JPI/PPI study. That includes both people looking for employment and those who say they have stopped or aren't trying (usual unemployment rates don't account for the latter). By this measure, Gray's neighborhood is 13% worse than the Baltimore average, which was 39%.
This was Freddie Gray's Baltimore — the only home he ever knew.