As Supreme Court Justices Deliberate, Marriage Proponents Celebrate in Solidarity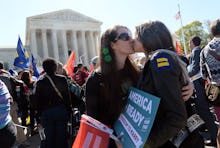 The Supreme Court justices weren't exactly easy on the plaintiffs who argued marriage equality is a constitutional right on Tuesday, but you wouldn't know it by the colorful display outside the court building. 
Same-sex marriage advocates and their opponents surrounded the courthouse to create visibility for their respective sides as the Court heard arguments in what may be the final case it hears on the issue.
Smiles and optimism graced the faces of those in favor of marriage equality, while their opponents waved the same, boring bigoted signs ("God Hates Fags" and "Homo Sex is a Sin" are notable favorites) the LGBT community sees at annual pride parades. 
And, of course, the media was out in force to document the making of history.